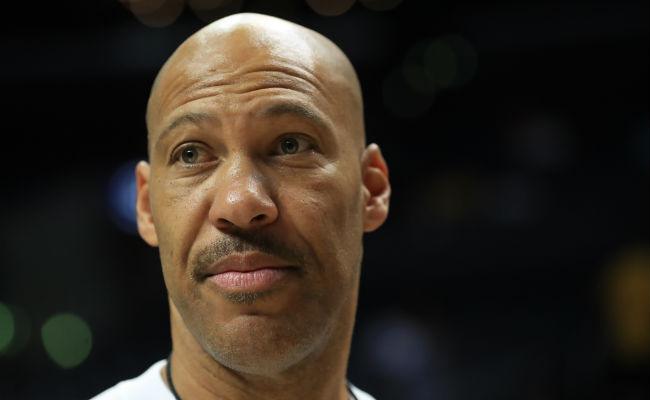 Apparently, LaVar Ball doesn't want to focus all of his time and energy on beefing with the President of the United States. One day after the patriarch of the Ball family appeared on CNN to discuss his ongoing feud with Donald Trump, Bleacher Report dropped a story in which Ball expressed frustrations with the coaching staff of the Los Angeles Lakers.
Ball stressed that he does not have a problem with Lakers head coach Luke Walton, but despite this, the most famous sports dad on earth expressed disappointment in the team's staff. Namely, Ball believes the staff does not know how to coach his eldest son, Los Angeles point guard Lonzo Ball.
"They're soft. They don't know how to coach my son. I know how to coach him," LaVar Ball said. "I tell him to go get the victory. Stop messing around."

Does he have a problem with coach Luke Walton?

"No, I have a problem with losing," Ball responded.
Lonzo hasn't been especially great to start his career, which isn't uncommon for rookies. While his assist and rebound totals are impressive, he's averaging 8.9 points a game on 31.3 percent shooting from the field and a paltry 22.8 percent shooting from three. Perhaps the most concerning aspect is that Ball is only connecting on 46.2 percent of his free throws, although he has only gotten to the line 26 times on the season.

But the Biggest Baller™ seems to believe that the issue stems more from how Walton and co. are trying to use losses and poor performance as teachable moments. To LaVar, the best course of action would be to place pressure on players after subpar games.
"What I mean by babying [Lonzo], 'He'll figure it out,'" Ball said. "It ain't about that. 'Be patient with him?' Ain't no patience if you're winning."

"They're letting it go too easy, saying they're a young team," he continued. "Forget about that! Put the [onus] on them. Say, 'You guys need to win. You've got enough talent. Win some games.'"
Ball's apparently taking the "they're fine with losing" take, which is likely off-base. No one makes it in the NBA unless they have a desire to win, and it's somewhat laughable to think that Walton and his staff aren't trying to win every game. There is a massive difference between "we're happy with losing" and "we're using losses as opportunities to teach," which is something that LaVar Ball does not appreciate.
(Via Bleacher Report)