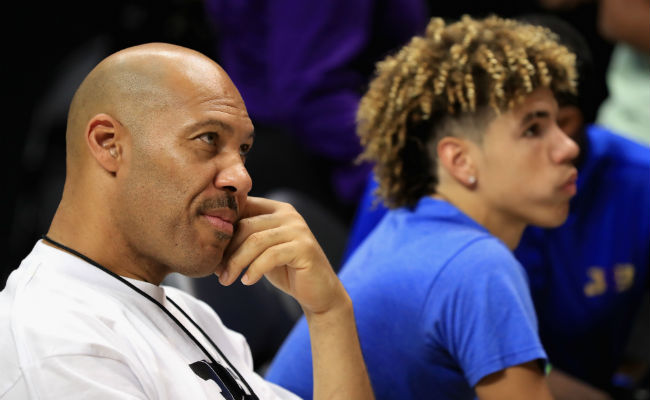 LaMelo Ball is, by almost any measure, the most famous non-professional basketball player in the world today and the soap opera surrounding his development continued on Monday. In short, LaMelo's father, LaVar Ball, has decided to pull his youngest son out of Chino Hills High School to pursue homeschooling over the next two years. As if that bombshell wasn't enough, LaVar then spoke to Ramona Shelburne of ESPN concerning the reasoning behind the move and, well, he didn't pull punches.
First, LaVar flatly indicated that he plans to home school LaMelo and "making him the best basketball player ever."
"I'm not dealing with the coach over there. I'm not dealing with the administration over there. I don't want no distractions on Melo. So therefore I'm going to home school him and make him the best basketball player ever."
Beyond that, LaVar centered on new Chino Hills head coach Dennis Latimore and concerns surrounding his performance to this point.
"It's a new coach and I don't like him one bit. He's on track for UCLA, but he doesn't have to be dealing with those knuckleheads. I'm not letting them mess with his head anymore. You can put that on the principal and the coach over there."

"That coach has his own frame of mind on how he wants to play and who he picks in the team. Ok, y'all got all that going on, let's see how you do without my tutelage. Without me training those players at my house. It seems like anybody whose training over here that coach don't want him in the team."
LaVar was widely accused of getting the previous Chino Hills head coach fired and removing his (very) talented son from the proceedings now won't be doing Latimore any favors. Still, this is bizarre even by LaVar's standards, as the high school season has not yet begun and he is seemingly evaluating Latimore on distant information as a result.
Nothing should surprise the basketball world with the Ball family at this point, but even by the lofty standard for LaVar and co., this one seems like it came from out of nowhere.