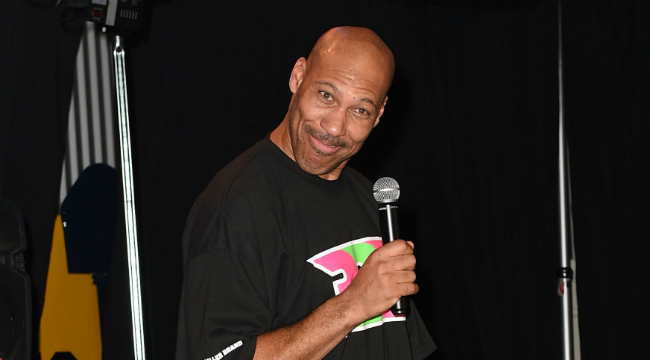 LaVar Ball has made some bold claims since he entered the NBA zeitgeist when his oldest son Lonzo started to garner some national attention a few years back. LaVar's claims range from clearly-trolling to maybe-serious, and include such absurdities like defeating Michael Jordan in a game of one-on-one or taking shots at Joel Embiid's intelligence.
Love him or hate him, it's hard to argue that LaVar's marketing strategy and innate ability to find the nearest camera isn't working. He recently purchased a gigantic new Big Baller Brand mansion, he landed his own show through Facebook, and his media appearances are only getting more frequent. While his antics may, or may not be having a negative impact on Lonzo's NBA career, LaVar's stock still rising, believe it or not. He's everywhere, still, and he's making a lot of money doing it.
Lonzo, on the other hand, has struggled during the first several weeks of the 2017-18 NBA season. The Lakers are playing fun team basketball right now, and Lonzo deserves some credit for that, but his individual scoring output is non-existent right now. As of November 6th, he's shooting below 30% from the field, and that's unheard of for a player who's getting 33 minutes every night.
Despite those early struggles, LaVar made another bold claim on behalf of his son at ComplexCon on Saturday, and Los Angeles Lakers legend Kobe Bryant was his target.

This somehow seems both somewhat based in reality and also completely impossible. LaVar ball has a point, kind of. Lonzo grew up in the social media era. He's far more active on social media than Kobe. He knows how to use it, when to use it, and all that other millennial stuff. Big Baller Brand is good at social media as well. This is all true.
Where that theory starts to fall apart is when you consider just how big Kobe Bryant is. Granted, Lonzo is just starting his NBA journey, but it's not just about followers and social media prowess. If Lonzo isn't good at basketball, nobody is going to care about what he does on social media.
Lonzo has a lot of catching up to do. Kobe has 13 million Twitter followers to Lonzo's 533k. Kobe has 7.8 million Instagram followers to Lonzo's 3.2 million. We haven't even talked about Kobe's insane international popularity, particularly in China where he's one of the most beloved figures in a nation of more than a billion people. Kobe is a transcendent megastar by every qualification.
You can never say never, of course. Maybe someday Kobe will decide to wander off into the desert somewhere with Phil Jackson on a vision quest and we never hear from him again. If that's the case, Lonzo might just have a shot at fulfilling this prophecy from his father.