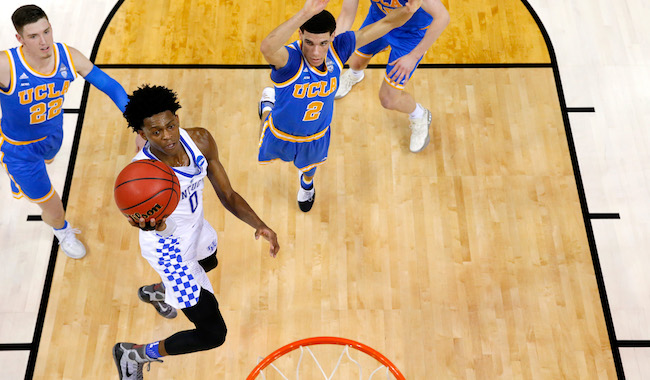 LaVar Ball has invaded the lives of every basketball fan to some degree and he's at it again. In speaking about UCLA's season-ending loss to Kentucky in the 2017 NCAA Tournament, LaVar made reference to a particular reason why he thinks Lonzo Ball and company were unable to compete at the highest level.
In comments to the Orange County Register, LaVar indicated that the Bruins had defensive issues because they played "three white guys" at the same time.
No, really, that's what he said.

"Realistically you can't win no championship with three white guys because the foot speed is too slow. I told Lonzo – 'One of these games you might need to go for 30 or 40 points.' It turned out the that was the one game. Then once they get to the Elite 8, they're right there."
UCLA deployed Bryce Alford, Thomas Welsh, and TJ Leaf (who happens to be a first round NBA Draft prospect) at various times during the season and against Kentucky, but the Bruins had major defensive issues throughout the season no matter which combination of players they had on the court. In fact, Steve Alford's team was widely doubted as a result of their less-than-elite defense and LaVar's notion that a team "can't win no championship with three white guys" is as crazy as it sounds.
At a certain point, LaVar Ball reaches the Bill Simmons "Tyson Zone" when nothing he says will provide any shock factor, but this one still moves the needle. In that same interview, he revealed Lonzo had a hamstring injury that held him back considerably against Kentucky and that would be useful information given the whispers that the top-flight prospect gave less than full effort down the stretch.
Instead, the elder Ball elected to criticize his son's teammates for their skin color and perceived lack of defensive acumen. Needless to say, that isn't the best look.