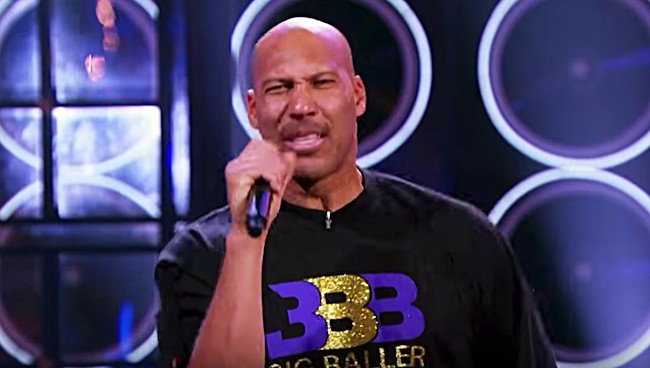 Lonzo Ball has aspirations of having a successful rap career along with his budding pro basketball career. The eldest Ball brother will drop his first album this week and while his teammates might not be believers in his music, his dad surely is.
Lonzo Ball will be joining Lip Sync Battle this Thursday night along with LaVar as the two go head-to-head in a battle of new school versus old school fake rap performances. Lonzo is performing Migos' hit "Bad and Boujee," and a snippet of his performance dropped earlier this week. LaVar, however, will take it back to the old school and troll his son a bit in the process.
Lonzo's weird beef with Nas, in which he's called the rap legend overrated, hasn't been lost on his father. For his performance, LaVar breaks out "Hate Me Now" by Nas feat. Puff Daddy, which is fitting for the polarizing figure and also is a chance for him to mess with Lonzo a little bit.

LaVar's performance is, well, about what you'd expect. It's not flawless but he seems very into it and is very intense about his fake rapping. We also see a bit of a personality from Lonzo, which isn't often on display from the Lakers' young point guard, as he pokes fun at his dad's performance with a bit of a diss on his dad.
(Via Lip Sync Battle)