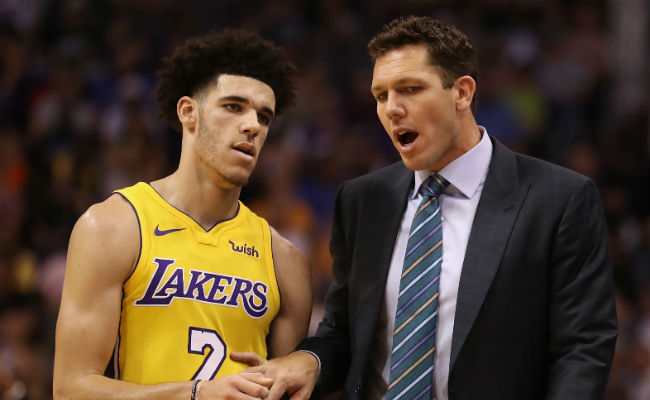 LaVar Ball has some thoughts about Luke Walton's coaching. The Big Baller Brand patriarch and noted AAU coach wasn't a fan of how the head coach of the Los Angeles Lakers executed the team's end game on Wednesday night against the Golden State Warriors, and it might shock you that his advice includes getting the ball to his son, Lonzo.
The Lakers pushed Golden State to overtime on Wednesday night, but Steph Curry and the Warriors ultimately won a game in which LA had a chance to win it with the last shot in regulation. LaVar's issue is that Luke Walton called timeout in the closing seconds to set up a play, which had Brandon Ingram take a shot that would not fall.
LaVar, predictably, says the Lakers should not have called timeout to reset things for the final shot. In fact, he says a certain Big Baller was open in the lane for the game-winning basket. He spoke with Chris Haynes after the game and relayed the big news: Lonzo was ready to lead the Lakers to glory.
"I'll tell you the crucial point," Ball said. "When Julius (Randle) got that ball at the end, he should have thrown it forward. Lonzo would have had a layup or a 3-pointer. That's game."
In other words, get the ball to Lonzo, who of course would have had to make a shot, something that's been difficult for him at times this season. Still, LaVar was confident his son would have hit the game-winner, partly because Lonzo was running up the sideline behind the defense.
"They wouldn't have gone to overtime," Ball said. "That was game."
Ball said Julius tried to "take too many dribbles" and that's what let Walton take a timeout. But if he threw the ball ahead, he argued, the timeout could not be called with the ball in the air.

"Lonzo's running the lane. Game over," Ball said. "That's the best time to score. When there's nine seconds left and your coach don't call timeout."
Ball said it's a game of runs, and when you call timeout in the middle of a run like that it means "you're scared."
But as ESPN's Ramona Shelbourne said late Thursday, Walton likes to call timeout in that situation because he likes to give his young team some rest and let them reset. But LaVar has a different suggestion for the coach: Be a Big Baller like him.
"Do the Big Baller move," Ball exclaimed. "Don't call no timeouts."
I think it's best to defer to the NBA head coach and not the one still pulling teens off the floor because of what he perceived as bad officiating, but it's nice to have opinions I suppose.