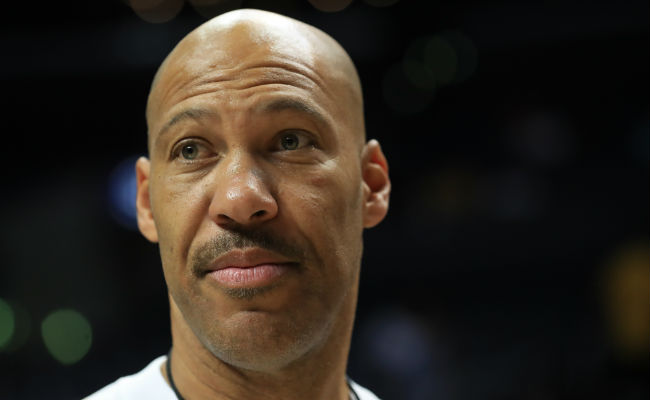 With his son's name dominating the news cycle as the trade deadline nears, LaVar Ball has inserted himself back into the public arena, and his comments have increased in outrageousness by the day.
It began earlier this week, when Ball told ESPN that Lonzo would prefer to play in Phoenix rather than New Orleans if he became a part of a hypothetical deal for Anthony Davis. It then jumped a level when Ball told a Phoenix radio station that Luke Walton was, in essence, a lousy head coach.
It's now gone off the rails today, with Ball appearing on FS1's "Undisputed" to announce that Lonzo is actually better than *squints* LeBron James. The Biggest Baller says outlandish things all the time, but this might take the cake.

Here are the list of reasons Ball gives Shannon Sharpe and Skip Bayless as to why Lonzo is a superior basketball player to maybe the greatest basketball of all time:
-LeBron is hurt and is getting "old."
-LeBron cannot guard Lonzo on the fast break
-LeBron has "been in the league a long time to not be able to hit no free throws," despite his own son shooting just 41 percent from the charity stripe
None of these reasons make much sense, especially the "LeBron can't guard Lonzo on a fast break" one because, one, why would LeBron be guarding Lonzo on the fast break and, two, absolutely yes he could. We already know Ball trains in hyperbole, and when backed into a corner, he apparently felt it was time to take shots at the Lakers' prized possession.

Ball also doubled down on his criticism of Luke Walton and insisted James won't win a title in L.A. without Lonzo, which might be true but almost assuredly not because of the lack of the eldest Ball brother.
Things are already a mess in Los Angeles, and with New Orleans seemingly content to stand pat before today's deadline at 3 p.m., things only appear to be getting worse.