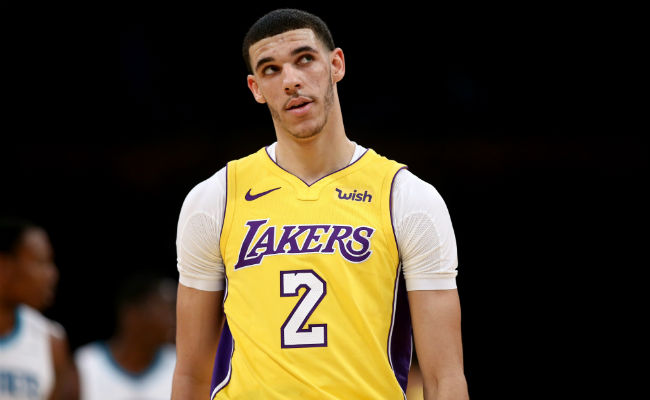 LaVar Ball has a warning for the Los Angeles Lakers: Don't give up on Lonzo just to go chasing a trade for Kawhi Leonard.
Ball didn't have the glorious rookie season that his father imagined, starting with the fact that the Lakers didn't make the playoffs. But Ball struggled with injuries and up and down play, averaging 10.2 points, 6.9 rebounds and 7.2 assists in his rookie season. The passing and overall court vision was there, but his shooting was inconsistent and he struggled from beyond the arc.
The potential that made him worthy of the second overall pick in last year's draft was on display at times, but with Leonard potentially on the market, it's plausible that the Lakers could look to move him. Ball is seen as the most coveted of L.A.'s young players, but his father thinks moving the point guard would be a huge mistake, even if it means getting Leonard and potentially attracting LeBron James to the team in free agency.

Ball spoke to TMZ Sports and warned the Lakers not to trade his son unless they want to make the worst mistake in franchise history.
"If they wanna trade him, trade him. It'll be the worst move they ever made."

LaVar went off at his JBA season opener on Thursday afternoon — when we asked about the rumblings that Magic Johnson could ship Lonzo to San Antonio to get Kawhi Leonard.

"If they wanna trade him, trade him. If they don't wanna trade him, keep him. He's gonna do his thing. I'm not worried about no trades.
It hasn't been a great week for Ball's master plan of having all three of his sons play for the Lakers. LiAngelo went undrafted and the team isn't inviting him to play on their Summer League team in Las Vegas next month despite his best hopes, so to say that Ball is projecting here is an understatement. The problem with talking all the time is that it loses its impact over time, and no matter what Ball does, he still can't tell the Lakers what to do.
(Via Yahoo Sports)