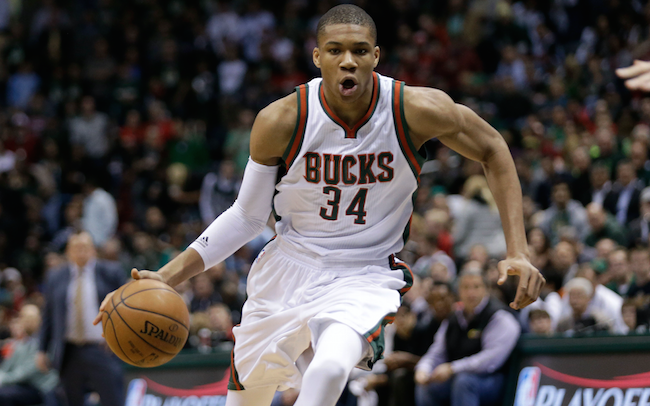 The young Milwaukee Bucks are poised to build on a surprising season by fighting for one of the Eastern Conference's top playoff seeds in 2015-2016. Unfortunately, Jason Kidd's team will be forced to begin that journey without its most promising young player.
Giannis Antetokounmpo has been suspended one game for a nasty flagrant-2 foul on Mike Dunleavy during the Bucks' season-ending loss to the Chicago Bulls in Game 6 of the teams' first-round playoff matchup. Pertinent details of the league office's release on the matter are below.
Milwaukee Bucks forward Giannis Antetokounmpo has been suspended one game without pay for running over Chicago Bulls forward Mike Dunleavy, it was announced today by Rod Thorn, President, Basketball Operations.

[…]

Antetokounmpo will be suspended for the first game of the 2015-16 NBA regular season for which he is eligible and physically able to play.
The 6'9 forward plowed right through Dunleavy as the Bulls marksman finished his shooting motion in the second quarter of Thursday's laugher. Even irrespective of Dunleavy's prior run-ins with the Bucks, Antetokounmpo's dirty play would have been enough to warrant an ejection and eventual suspension.
Does this look like a basketball play?
Following exit interviews with franchise personnel, the 20 year-old made sure to mention his opponent's shady on-court antics. More important? Antetokounmpo's apology immediately thereafter. Here's Giannis via Charles Gardner of the Journal Sentinel:
"Sure there were some cheap shots, but it was a bad play by me," Antetokounmpo said after his exit interview with general manager John Hammond on Friday. "It's not going to happen again. From the intensity of the game and the cheap shot; we were down 30. You live, you learn. It was a bad mistake by me."
Assuming he's healthy enough to play, Antetokounmpo will sit-out Milwaukee's season-opener next fall. Here's hoping he not only learns from his mistake, but has the chance to show how much he's grown on the playoff stage a year from now.