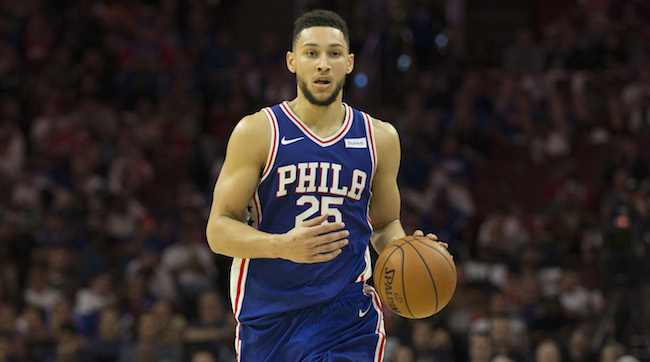 Ben Simmons has taken the NBA by storm, putting together one of the most impressive starts to a rookie season in recent memory. The 6'9 point guard looks like a power forward until you see the ball in his hands, and then you realize why Brett Brown decided to go forward with the experiment to put him at the 1-guard spot.
Simmons is averaging 18.7 points, 9.5 rebounds, and 7.2 assists per game through 19 games as a rookie, and that stat line and his status as a point guard trapped in a forward's body reminds many of LeBron James. It's not just fans or analysts grasping for a lazy comparison, Dwyane Wade sees the similarities between the two, as does J.J. Redick. James is quicker to pump the brakes on comparisons, trying to keep the weight of that pressure off of Simmons by noting Simmons is his own player.
That doesn't mean James isn't impressed by Simmons' start or his abilities. LeBron has long been an admirer of Simmons' skills, inviting the young Australian into his circle and into his offseason workouts as a high schooler. Simmons, who shares an agent with LeBron, remembers some of the early interactions he had with James, and the words of advice and encouragement he got from The King.

In a recent profile in Sports Illustrated by Lee Jenkins, Simmons recalled some of the advice and praise he received from LeBron, who told the young, budding high school star he could surpass everyone, including James, with the right commitment to putting in work.
"You have an opportunity," James told Simmons early on, "to be better than me. But you can't skip steps. You have to do the work." Those words helped sustain him when he stumbled at LSU and helped fuel him as he rehabbed in Philadelphia. "Is this really going to happen?" he asked himself. He knew, even if others wavered, that it would. Because LeBron said so, and for a prospect of Simmons's vintage, no endorsement means more. "Part of his greatness," Simmons says, "is that he wants others to be just as great."
There aren't many superstars that would be willing to offer that kind of statement to a young star, but James is unique when it comes to his status as one of the greatest ever. Simmons is off to a great start in his quest to be one of the best ever, but there's an awfully long way to go to get to LeBron's level. That said, it's impressive what he's done as a rookie point guard, where we so often see young players struggle to handle all that goes into that position (it doesn't take more than a quick look around the league right now to see that).
Simmons is producing individually, but most impressively he's helping his team win. It's a rarity for a rookie and is putting to rest all the doubts from his year at LSU when the Tigers struggled to win. Having a mentor like LeBron and a running mate like Joel Embiid doesn't hurt the cause, but the Sixers have a special player and James will be the first to tell you that.