There's a whole bevy of reasons why the Atlanta Hawks should be the favorites to win their Eastern Conference Finals showdown against the Cleveland Cavaliers.
They won a franchise-best 60 games and captured the number one seed in the East and in the process secured home-court advantage until the NBA Finals. They beat the Cavs in three out of their four regular season match-ups. Kyrie Irving is hurt and likely won't be 100 percent this series. Even if he were healthy, he's never been a good defender, and Jeff Teague, who's been perhaps the biggest clutch performer of these playoffs, is the perfect foil for him.
There's no Kevin Love to stretch the floor for the Cavs, something they sorely need against the Hawks' swarming defense. On the other hand, the Hawks, lovingly dubbed the Spurs of the East, are arguably the best passing team in the playoff field at their peak and will try and leverage a small-ball lineup to counteract Cleveland's formidable paint presence. They also had the league's highest effective field goal percentage against the Cavs during the regular season.
Atlanta has Coach of the Year Mike Budenholzer, a Gregg Popovich protege who architects a Spurs-lite, share-the-wealth offense that exemplifies the pace-and-space era of the modern NBA. The Cavs have David Blatt, whose comedy of errors include trying to pull a Chris Webber, then following that up by trying to allow someone other than LeBron James to take a game-winning shot.
On paper, it's very difficult to argue against the Hawks as the prohibitive favorites here. But Atlanta also has a lot going against them that can't be overlooked. For starters, two teams that are both wildly inferior to the Hawks and the Cavs – the Brooklyn Nets and Washington Wizards – pushed them all the way to six games apiece.
They haven't sniffed the conference finals since 1970, and only two current roster players, Kyle Korver and Paul Millsap, have ever been to the conference finals. Speaking of Korver, he's been positively atrocious so far this postseason when you compare his production to off-the-charts numbers he compiled during the regular season. He's been especially poor in crunch-time, connecting on a dismal 1-of-12 three pointers when the game hangs in the balance, per NBA.com.
James, on the other hand, has made the conference finals seven out of his 12 years in the league, including five consecutive trips dating back to 2010. And it's not just his experience that wins out here. His Heat teams won all four of their conference finals appearances. If that wasn't enough, LeBron's best playoff performances have historically come during the conference finals, and according to the metrics over at fivethirtyeight.com, he's quite simply one of the best conference finals performers of all time.
The Hawks' three regular season wins against the Cavs also come with caveats and asterisks. Three of those four meetings came during the first two months of the season, before GM David Griffin acquired Timofey Mozgov, Iman Shumpert, and J.R. Smith and drastically altered his team's chemical makeup. One of those Atlanta wins came when LeBron was on his spur-of-the-moment, Don Draper-like sabbatical, too.
In terms of pace, the Hawks are much more likely to force the issue. They've averaged nearly 97 possessions per 48 minutes to the Cavs' 93, and thanks to their pesky defense, they're converting 17 points per game off of turnovers. If healthy, however, Cleveland is equipped to get a few sneaky points in transition, especially if James is able to patrol the passing lanes – thanks to his front-court bulwarks – and translate steals into easy breakaway dunks the way he's done his entire career.
When it comes to x-factors, Smith is the name that stands out most. He's a walking heat check, and as if he needed any more confidence, he's shooting three pointers at a ludicrous clip: better than 50 percent on his attempts. He also had a true shooting percentage of 68.3 during the conference semifinals. It's not hard to imagine Smith being a difference-maker in at least one of these games.
Neither team has a very deep bench, so there's no clear advantage here, but if the Cavs are somehow able to coax the same scrappy effort (and production) out of Matthew Dellavedova that they got from him in the first round, it could be a major boon. It also might be a necessity depending on Irving's health.
If the same Hawks team that showed up to play the Wizards last round shows up against these Cavs, though, they're in big trouble. Like the Cavs, Washington faced a similar problem with their big man duo of Nene and Marcin Gortat, both of whom got torched by Millsap and Al Horford. Regardless, the Wizards were somehow still able to push three consecutive games to the absolute brink last round, even without John Wall. That doesn't bode well for the Hawks against a comparatively loaded Cavaliers team that also happens to include the best player on the planet.
The individual match-ups are where things start to get interesting. DeMarre Carroll is an almost ideal foil for LeBron. At 6'8, 212 pounds, he doesn't have the heft to consistently stymie James in the post. But Carroll is a fighter with quick feet and long arms, one of the most underrated individual defenders in basketball. LeBron will get his share of points with his back to the basket, but most of them won't come easy.
To make matters worse, Carroll is going to make James work on the defensive end. He's been Atlanta's best scorer in the postseason, notching at least 17 points in eight of Atlanta's 12 contests. But then again, we have to remember we're talking about LeBron here, who just spent six games outplaying Jimmy Butler while shouldering the postseason's heaviest load. Basically, he can and will limit Carroll if engaged.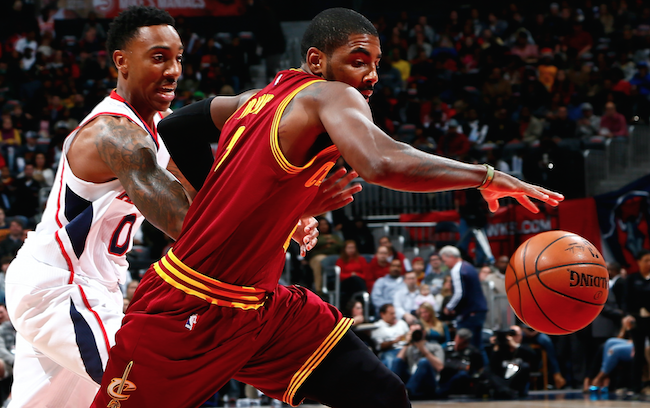 But let's get back to the point guard match-up for a moment. Granted, Irving is battling a somewhat nebulous knee injury, but he's also had six full days to recuperate and is planning on suiting up for Game 1. We'll have a much better idea of where he is physically after tip-off of Wednesday's contest. If he's feeling spry, the Hawks will have a problem on their hands.
In terms of their respective front lines, Mozgov has been, bar none, the best rim protector of the playoffs so far, and Tristan Thompson has been the second best offensive rebounder. But the Hawks frontcourt tandem of Horford and Millsap are banking on luring them out to the perimeter and creating spacing for their offense, forcing the Cavs into some lesser-of-two-evils decision-making in the process. Nonetheless, as we saw in the Washington series, that wasn't a tipping point for Atlanta.
One crystal clear advantage for the Cavs is momentum. Since their last regulation season match-up against the Hawks, Cleveland has gone 22-6, while Atlanta has a middling 19-14 record. Atlanta's lethargy spilled over into the first two rounds as they struggled to put away opponents who had no business forcing them into a series-swinging Game 6.
But make no mistake: This series will hinge on how big an imprint LeBron can make on it, and that doesn't primarily relate to scoring. Despite putting up big numbers, he was inefficient against Chicago overall and downright dreadful from the three-point line. The Cavs will need him to be the triple-double threat that helps clean up the boards, gets his teammates involved, and wreaks havoc on the opposing team's offense. In other words, be LeBron James.
If he can do that, Cleveland should get the chance to play for a championship.