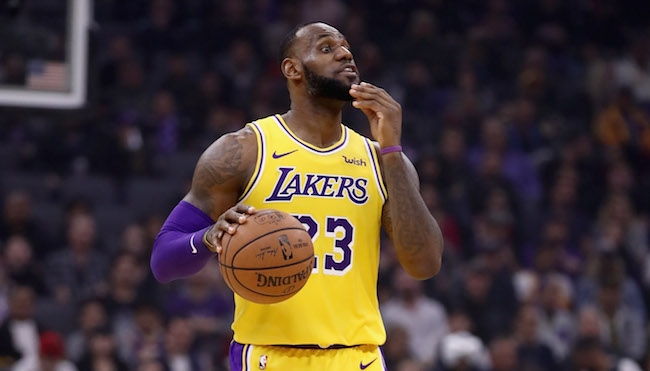 LeBron James had his highest scoring night as a Laker on Wednesday in a win over the Blazers with 44 points, passing Wilt Chamberlain for fifth on the all-time scoring list in the process. After a less than stellar outing in Orlando by the entire Laker team on Saturday, they were back in action in James' old stomping grounds in Miami to face the Heat, and LeBron decided to have his first 50-point outburst as a Laker.
LeBron was 19-of-31 from the field, including 6-of-8 from three, as he continues to light it up from distance over this recent stretch — which makes him even more impossible to guard. James looked very comfortable in Miami on his way to 51 points in L.A.'s 113-97 win over the Heat.
You could tell from the jump that James was feeling spry, as he had a few massive dunks early in the game that served notice to everyone in the arena that it was about to be one of those nights.
James unleashed his arsenal of pull-up jumpers and step-back threes throughout the game, lighting up the Miami defense that did its best to keep him away from the rim after his early onslaught of dunks.
As time was winding down, James hit a deep three to go over 50 points on the night and give himself a 12th career 50-point game.
The full highlight package of his 51-point outburst shows that James had it all working, and no one on Miami was able to do much with him.
It's nights like these that make Lakers fans think, even with their flaws, they have a chance to make some noise this season.