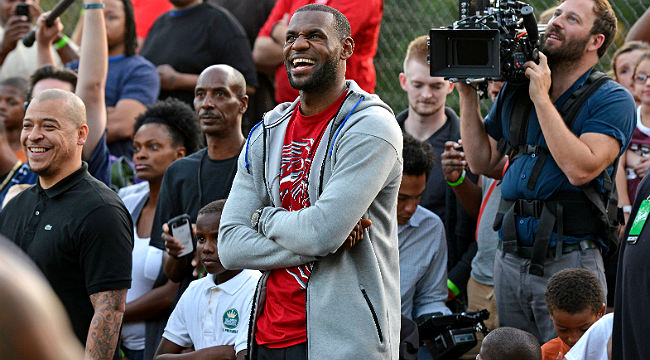 AKRON, Ohio — Last week's announcement that LeBron James was willing, through his foundation, to pay for around 1,000 Akron Public Schools students to attend a four-year college got me thinking about what LeBron means here, to this city and its people, not as the four-time NBA MVP, King James, "The Chosen One," or for any reason he's known in most other places.
Turns out trying to explain it is much tougher than I thought.
Here is where he was born, raised, came to be known and started his ascent. Here is where he still lives — in a swanky suburb, but close enough — not just as a basketball player, but as a giver, a role model, and a source of pride and hope. The LeBron James Empire surely isn't shrinking, but here's where he can live as the keeper of that mantle, yet maintain some small semblance of a normal life.
You don't have to look far to find someone who calls him "Bron," not because he heard one of his Cavaliers teammates call him that in an interview, but because he's always called him that.
Bron is just a kid from Akron, as he famously said on the floor after winning his second NBA title, and the scholarship program involving his foundation, JP Morgan Chase and the University of Akron might be his most generous gift to the city yet. But it's not just about the money or the gift or even that he and his family are still here in this city of almost 200,000 people and five-month winters when they could live anywhere.
In announcing his 2014 decision to return to the Cleveland Cavaliers, LeBron wrote about home, and family, and "a community that has struggled so much," and his "responsibility to lead," and that in leaving Northeast Ohio for the first time for any extended period, he eventually realized "there's no better place to grow up."
As I tried to write this, I discovered that explaining what LeBron means to Akron isn't as simple as typing out a few hundred words, listing a few dozen good deeds or tallying up the number of futures he's brightened with his generosity. It's not about his affinity for Swenson's burgers, or those apple pancakes at Cracker Barrel, or his stopping by a St. Vincent-St. Mary football game and convincing his bodyguards to allow a few high-fives and even some hugs. It's not just that he's still telling people "thank you" to this day.
As far as famous friends go, he's a good one to have. As far as dedicated boosters go, well, he's pretty good at that, too.
He pledged $1 million for a new gym at St. Vincent-St. Mary in 2013, and when the actual tab went over, he paid that, too. That got lots of play, but what many didn't know is he decided to use a prior assembly at the school honoring him for his second Olympic gold medal to announce he'd be buying new uniforms for every athlete at the school. Having Nike founder Phil Knight on speed dial helps, sure, but there's nothing in his contract that mandates generosity or sums up the connection he has to Akron, to folks young and old, to the South Rangers pee-wee football team, or the kids from different sides of town who, for some family reason, can't join the local football team.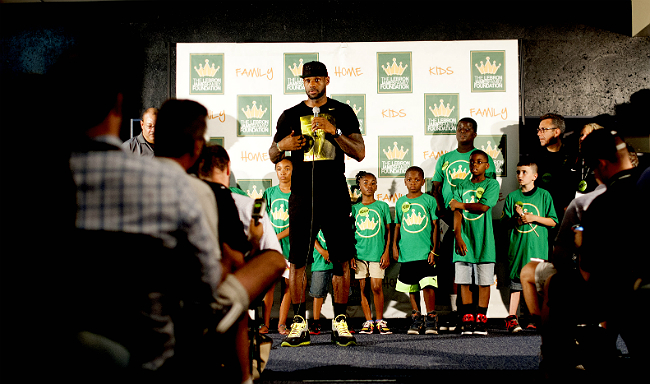 When he got back to Akron, after the craziness of the 2014 Summer of LeBron died down, one of the first things he did was film a commercial in his old high school. A couple months later, a McDonald's at one of the busiest intersections in town was shut down for a day so he could film another. When folks are fine with giving up Big Macs, you must be a big deal.
LeBron is his own economy, his own brand, his own man. Beyond the money he's generated and shared, though, is a bond. When LeBron was young and his mother was struggling, another family took him in. He's now the world's greatest athlete on two feet, but he was once a kid who was on these streets and in these situations. After the scholarship announcement last week, he told reporters this program "means so much because, as a kid growing up in the inner city… and a lot of African-American kids, you don't really think past high school. You don't really know your future. You hear 'high school' all the time, and you graduate high school and then you never think past that because either it's not possible, or your family's not financially stable to even be able to support a kid going to college."
Not to peel back the curtain too far, but LeBron only drives a Kia in those commercials or when otherwise contractually obligated. But when he's won the NBA award that's sponsored by Kia and receives a car as part of the package, he instead has taken the approximately $25,000 stipend and donated it to Akron Public Schools programs, some that wouldn't exist without his support.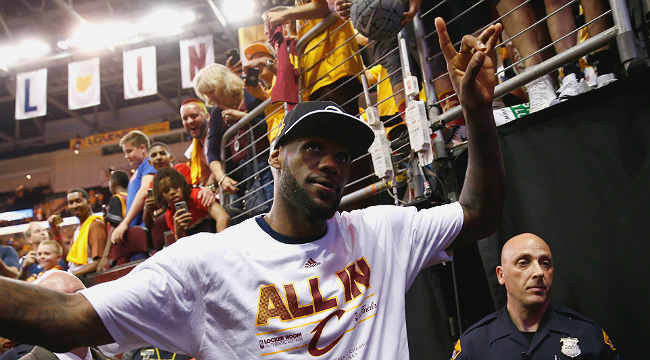 There are bad things going on in Akron, not far from St. Vincent-St. Mary, in fact. There are worse things going on closer to where LeBron lived and went to elementary and middle school. The economy isn't what it once was. The schools and the neighborhoods aren't what they once were. Akronites, though, are still full of pride. They know LeBron's story. They know his coaches, his family and his journey. When things got ugly between LeBron and Cleveland, LeBron claimed Akron. The city claimed him, too, then, now, and forever. What he's done, and is doing, in Akron can change lives, brighten futures and provide hope in places where it hasn't existed in a while.
He'll win an NBA title in Cleveland, maybe as soon as 10 months from now, and partly because it's been so damn long, no one is quite sure how Cleveland will react. That's the mission of LeBron the basketball player, the swoosh-laden global superstar, the ambassador of basketball and all things Akron. When the Cavs win that title, there surely will be a parade in Akron, too.
Probably a few of them.
If you're interested in coming to Akron and mapping out the route in advance, you'll find LeBron's Nike footprint everywhere. And you'll find lots of people wanting to talk about him, to brag about him, to talk about how he can mesmerize, and yet they can still relate.
Drive around. Hang out. Talk to those who have been here, who have no plans to leave, and you'll hear them say the same things about the same places. There's a pride not only in knowing LeBron, but knowing his path — and that it led him back.
"LeBron ate at this restaurant; sometimes still does."
"LeBron lived right over there, just down this street."
"LeBron played here, in this park, on this pavement."
"LeBron dunked on my cousin."
"LeBron IS my cousin."
In Akron, he's still The King like he is everywhere else. But here, he's also a lot like everybody else.