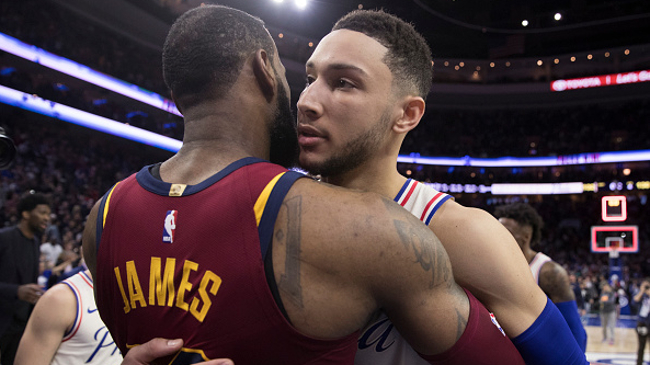 The Cleveland Cavaliers and Philadelphia 76ers each entered Friday night's showdown with enormous implications on the line. The Cavs were clinging to the No. 3 seed in the East, while the Sixers sat just a game behind them in the conference standings. Philly was also riding a 12-game winning streak.
And things didn't look good for Cleveland in the first half. Ben Simmons was absolutely on fire in the opening quarters, putting up 13 points on 6-of-9 shooting, to go along with 11 rebounds, eight assists, and three steals as his team dropped 78 first-half points on the Cavs and held a 30-point lead at one stretch.
But LeBron James would lead the charge in the second half as Cleveland came storming back behind his 44 points, 11 rebounds, and 11 assists. However, the Sixers would eventually prevail, 132-130, as Simmons finished with 27 points, 15 rebounds, 13 assists, and four steals. It was an epic duel between two generational talents, and after the game, the two acknowledged each other's phenomenal play, first in an on-court embrace after the final buzzer, then again later via Instagram.
"Fresh Prince x King James" is, hopefully, a matchup we'll get to see for several more years and possibly even sooner than that if the Cavs and Sixers end up facing one another in the postseason this spring.
The Sixers now hold a half-game lead on the Cavs for the No. 3 seed in the East.