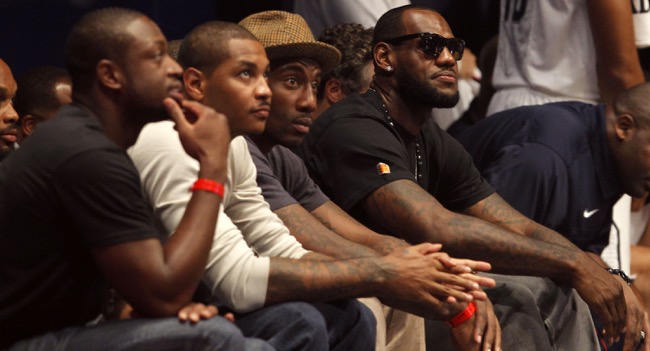 A couple weeks ago, Kevin Love admitted he and LeBron James were not best friends yet. Since Love is averaging only 16.5 points and 10 boards per game as a tertiary option in Cleveland, after averaging 26.1 and 12.5 in his final year with the Timberwolves, it was easy to paint a sloppy picture of clashing egos in Cleveland.
That's not really the case, though, it's simply a matter of new teammates — and Love, LeBron and Kyrie Irving are all still in their first year together — seeking to gel. LeBron brought this question of best friends up to Cleveland.com's Joe Vardon recently and admitted he only really has three very good friends in the Association:
"People get so infatuated with the best of friends, things of that nature," James said. "First of all, I've got three very good friends in this league, and that's Carmelo (Anthony), and that's C.P. (Chris Paul), and that's D-Wade. And after that I have a bunch of teammates. I have guys I ride for every day.

"But Kyrie is a guy I understand how important he is to this team, how important he is. And the same with Kev as well."
This makes sense. All three are around the same age and came into the NBA at close to the same time (CP was the year after that heralded 2003 Class). All three are superstars. All three have had success in the league, though more so for Wade and LeBron than the other two.
None of them are teammates, at least now.
Vardon wrote a long piece on the inter-team social dynamics of the Cavaliers, specifically the rocky opening to the year when people where wondering why Kyrie finished an entire game with zero assists, Kevin Love gripped about touches in the paint, and LeBron called his team "kids," since most of them are younger than him, specifically Love and Irving.
But you really don't need to be friends with someone to play on the same team and win titles. The Spurs seem unusually close, but the Mavs in 2011 probably weren't clubbing together (except after they won), and a host of other title-winning teams throughout history involve disparate parts that came together to work as a team, even if they weren't chilling off the court.
LeBron, Love and Kyrie all probably know this, but Kyrie and LeBron have developed something of a relationship on and off the court, while LeBron and Love have been embroiled in silliness stemming from a LeBron tweet and his Instagram page failing to show Love in group shot with other Cavs players. Does that really matter as long as Love as connecting with LeBron on outlets?
No. The Cavs have been winning over the last two months and all three are necessary if they're going to fulfill what many consider their destiny: to claim the Eastern Conference crown:
"In order for us to reach our potential, the Big Three has to be big," James said. "And it can't just be Kyrie one night, me one night, and Kev. We all have to be clicking at the same time in order for us to be successful."
It's easier to click when you're good friends, but Wade and LeBron are tight, and they didn't seamlessly combine in that first year in Miami. In fact, Miami's spread-the-floor offense and helter-skelter defense to get out in transition didn't really come together until the Eastern Conference Semifinals in their second year together (when Wade went down and LeBron took over). Wade had to cede his status as The Man in Miami before that group really came into their own to claim two NBA titles and four consecutive Eastern Conference Titles.
These things take time, and a Larry O'Brien Trophy will heal any wounds Love or Irving might harbor because they haven't exchanged BFF bracelets with LeBron yet.