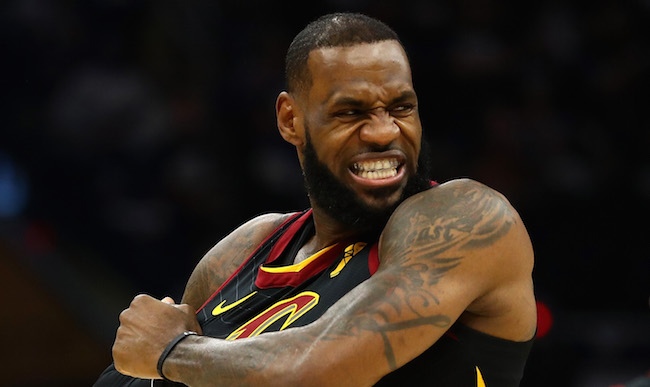 Today in "LeBron James played the Toronto Raptors," LeBron James had a monster game to take down the Toronto Raptors. James had 38 points in Cleveland's 105-103 win to push Cleveland to the brink of another conference finals appearance. He had 36 points until the game's final possession, but the game was tied, and James doesn't like to give an inch to his Eastern Conference foes.
So with eight seconds left, James went the length of the floor, threw up an awkward runner, banked it in, and celebrated as the Cavs defended their home court and picked up a win.

Here's another angle, because it was amazing, and deserves to be seen from as many angles as possible.
The Raptors fought admirably on Saturday night — they battled back from 17 points down to tie things in the game's waning moments. The craziest part was that they did most if it without DeMar DeRozan, who appeared to get benched during the fourth quarter as he struggled in Game 3. Kyle Lowry lead the Raptors with 27 points, while rookie wing OG Anunoby pitched in 18.
The issue is Cleveland has LeBron James, a mountain that Toronto continues to find indomitable. Now the Raptors has to try to win four straight games to keep their title hopes alive, and while you never want to call something impossible, it's really hard to see James losing four in a row to Toronto.