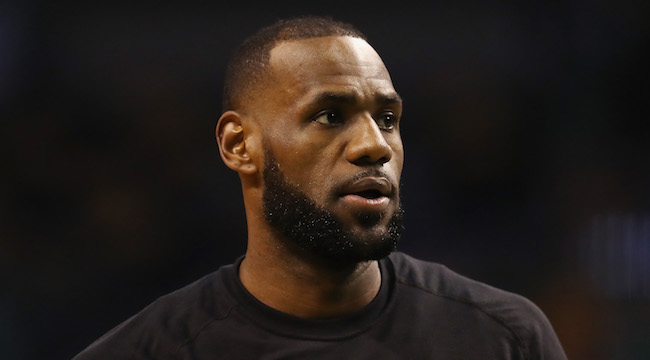 LeBron James isn't getting any younger. While he is the best basketball player in the world, he's in his 15th season, has logged nearly 42,000 regular season minutes, and will turn 33 next month. It's possible that LeBron can be an outlier, but history dictates that his peak will come to an end sometime soon, even if he sticks around for a while.
Prior to the season, LeBron sat down with Adam Figman of SLAM for an expansive Q+A. In addition to his thoughts on the book The Godfather and the importance of using his platform for social change, LeBron spoke about how he wants people to look back on his career.
He doesn't want to be viewed as the best player to live or anything like that. Instead, LeBron said that he hopes people remember him as one of the most unselfish players the league has ever seen.

First of all, that I was one of the most unselfish basketball players that played this game, at a level that he didn't have to be unselfish—but it's just part of my DNA. I cared for my teammates more than anything, but when I stepped out on the court, I gave it my all. There was never a moment when I didn't give it my all. One thing that they will always be able to say is that I was a champion. They'll never be able to take that away from me. Where they rank me, who I'm better than, who I'm not better than—I call that barbershop talk. That's gonna happen. No matter if you like it or not, it's gonna happen. It happens with the greatest of all time, Muhammad Ali. With Muhammad Ali, it's who's better, him or Floyd [Mayweather Jr]? Who's better, Tom Brady or Joe Montana or Aaron Rodgers or Peyton Manning? It's barbershop talk. What's better, ham and cheese or peanut butter and jelly? They can't even talk and people talk about them. It is what it is. For me, it's just being able to maximize, and hopefully people will talk about some of the best qualities you have, more than the stuff that doesn't mean anything.
LeBron has always prided himself on being an unselfish guy on the court, although this does give a glimpse into how much he values being a team player since that's what he wants a major part of his legacy to be. Some won't look back at him as a champion because he has three rings without the Finals record of a Bill Russell or a Michael Jordan, but as long as they view him as a team player, LeBron seems like he'll be happy.
(Via SLAM)