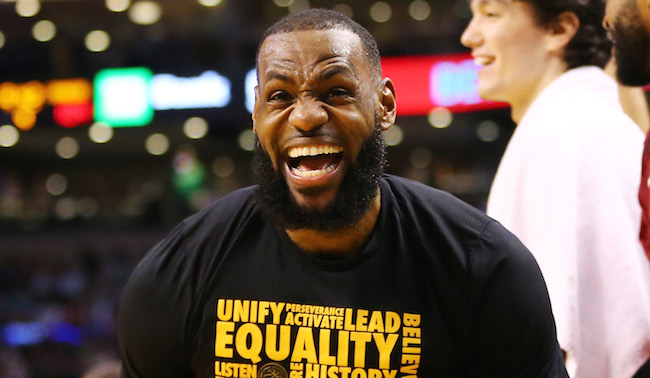 LeBron James looked like a new man on Sunday afternoon in Boston while playing with his new Cavaliers teammates in Cleveland's 121-99 romp over the Celtics.
It was the first game for all of the new Cavs and all four played a role in the win. Jordan Clarkson and Rodney Hood were knocking down big shots, Larry Nance Jr. threw down some big dunks, and George Hill appeared to be the steady hand at point guard the Cavs have needed all season. It was just one game, but it felt like a massive change from the past two months.
The Cavs played with more energy than they have in a long time on Sunday, feeding off of new guys excited to be on a contender and old Cavs thrilled to have some new blood in the locker room. James was celebrating on the bench like we hadn't seen in a long time and was feeding off of the effort of his teammates on the defensive end.

After the game, LeBron noted that change in energy and offered a lot of compliments to his new teammates. James knows he asks a lot of his team but when he gets that energy in return, it helps sustain him, as he told reporters per The Undefeated's Marc J. Spears.
"At the end of the day, I like being around guys that want to win and work hard," James said. "I know I demand a lot of excellence in my teammates. I demand it out of myself, too. On the road, we are going to play as well as we can and put ourselves in contention to compete for another championship. And that's my mindset."

…

"Man, it's almost like the new guys had been here," James said. "It started with George, his on-the-ball pressure and just running the team. And then the three guys came off the bench. Jordan can score at any given time, but his composure was great. Rodney played with so much poise. And Larry was just controlling the perimeter by setting great pick-and-rolls, got him a lob, got a dunk. It's a good start for the new guys. It's a good start for all of us with our revamped team."
It's clear James is fond of his new teammates, particularly that they came in ready to accept their roles and play together. He made sure to note something positive all four did, whether on offense or defense, and how it all felt so comfortable.
Comfort wouldn't be how anyone would describe the Cavs prior to the trade, and if this continues they figure to be legitimate players in the East once again, if not the outright favorites to return to the Finals. It's important to be wary of a small sample size, but even understanding it's just one game it's impossible not to be optimistic about the future in Cleveland, especially because of how clear it is that LeBron is excited.