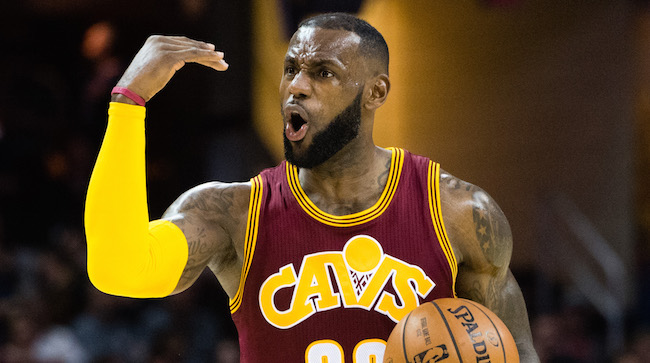 The Cavs have lost two of their last three games and are 5-7 in the month of March. Their most recent defeat came on Wednesday night as they were beaten handily by the Denver Nuggets 126-113. Chief among the Cavs issues right now is a total and complete failure on the defensive end of the floor.
In their 12 games this month, Cleveland's defensive rating is a dismal 114.0, which puts them 29th in the league and only ahead of the Lakers (116.1) who are actively tanking for a draft pick. This is a legitimate concern for Cleveland as the Cavs have 12 games left to figure things out prior to the start of the playoffs on that end of the floor.
LeBron James told reporters on Wednesday night that improvement on the defensive end has to start with his team playing tougher.
"It ain't about a group. It's about individuals," James said. "We've got to be more, just do more. It ain't about no group. You can't preach toughness. You've got to have it."
James said that while he had areas that he could certainly improve on after a night in which he was a -30 on the court, toughness was something he never lacked, challenging his teammates to match him.
"Personally? I had opportunities where I could have been better," James said. "Um, one thing about it, I always bring toughness to the game. I know that. That's for sure."
Among those that seemed to take James' words to heart was Tristan Thompson, who said that as the Cavs defensive anchor in the paint, he would be taking those toughness comments very seriously.
"When it comes to toughness, that's an area that I'm definitely going to look at and take very seriously," Thompson said. "Because at the end of the day, I'm the man in the middle, so I got to make sure I bring that toughness, and if it's being questioned, I got to pick that sh*t up."
If this all sounds familiar, it's because it is. James called into question the team's mental toughness a year ago when they went through a bit of a slump in February. In the moment, this current situation seems to be a more legitimate concern than some of the Cavs past "slumps," because it's been such a prolonged stretch of terrible defense.
Toughness certainly can't hurt, but Cleveland also needs to improve in pretty much all aspects on that end of the floor. The Cavs have time to right the ship, especially since they could probably get through the first round in the Eastern Conference Playoffs playing as they are now. However, once they get further along in the playoffs, the defense is going to need to come together if they're going to have a chance at a repeat.