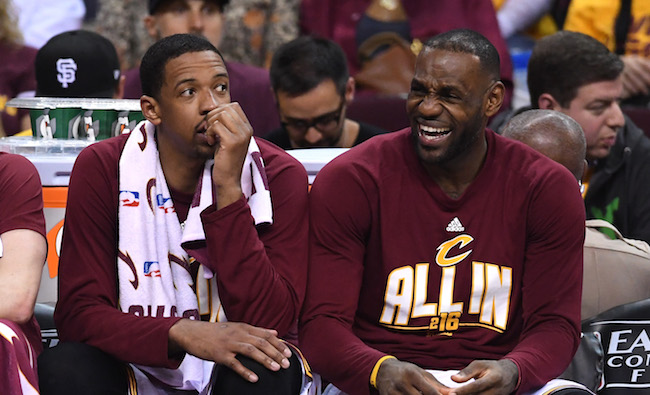 LeBron James might not play in Cleveland anymore, but that doesn't mean he isn't keeping up with what his old Cavs teammates are up to when the Lakers aren't playing.
On Sunday, the Cavs hosted the 76ers in Cleveland for an afternoon tip and with the Lakers not tipping off in Washington until the early evening, LeBron decided to settle in and watch his former team on his iPad while getting some work on the training table. The Cavs took an early lead on Philadelphia and extended that to 10 in the second quarter, when veteran Channing Frye — long a target of jokes from James — made a nice move to drive to the lane and kicked out to Collin Sexton in the corner.
The problem with that was, Sexton was in his warmups on the bench and there wasn't a Cavs player actually on the floor there for the kick out.

LeBron wasn't going to miss this opportunity to bust Frye's chops, so he rewound the game, pulled out his phone and recorded his reaction to Channing's blunder for the world to see on Instagram.
James cackling at the end of the video is the best part. Also, I'm a bit worried about the strain LeBron is putting on his charging cable. That thing is stretched out as far as it can go and bending awkwardly, it could fray at any moment.
Poor Channing was just trying to make the smart play only to find that the teammate he so wisely found for an open corner three wasn't, in fact, playing. Now, not only does he have to hear about it from his teammates, who all found it hilarious on the bench, but also can't escape from LeBron's jokes even though he's thousands of miles away.