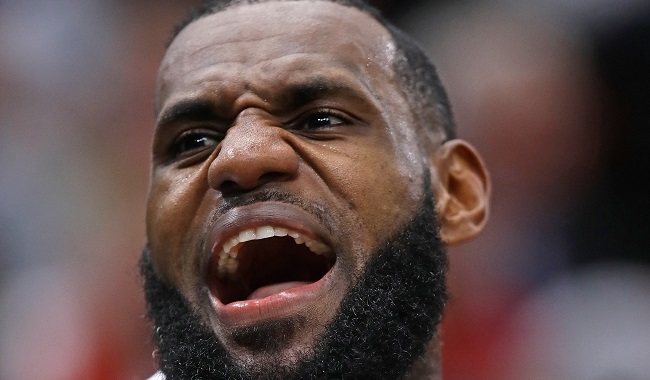 LeBron James and the Cleveland Cavaliers encountered little resistance in making easy work of the Chicago Bulls on Monday evening. Of course, that is not exactly a surprise given Chicago's status as the worst team in the NBA but the Cavs have also been playing quite well recently as winners of 13 consecutive games and the Bulls served as a blip on the radar toward keeping that winning streak alive and well.
During that contest, though, James seemingly had some time on his hands to get some much needed rest on the bench as a result of the 23-point blowout. While James sat near the end of the bench, flanked by Jae Crowder and Kevin Love, a courtside heckler decided it would be wise to go after the best basketball player on the planet.
Needless to say, that was unwise and, while the audio isn't the best, James can be seen and heard having a back and forth with the guy going after James for "crying" and not being a good point guard (which is an outright lie). James looks almost taken aback that someone's really coming at him like this, and finally ends the entire thing by taking a jab at the heckler over the girl next to him videoing him, with a closing reference to the guy as a "bum."

Of course, any reference to a "bum" from LeBron will bring about memories of his famous tweet lobbed in the direction of President Donald Trump but, in this case, it was a simple detractor that caught the wrath of James. It probably wasn't crafted with the same brilliance of most things that come out of James' mouth at this stage but, in the same breath, it is also refreshing to see him go back at a heckler after scoring 23 points, grabbing seven rebounds and dishing out six assists on the way to a breezy win.
NBA trash talk is usually fantastic and the general public isn't usually brought in as a witness to every bit of it. In this instance, though, we get a brief glimpse at a relaxed James clapping back and it's certainly something. If nothing else, Crowder enjoyed James' comment a lot.