What if, some day or night, a demon were to steal after you into your loneliest loneliness and say to you: "This life as you now live it and have lived it, you will have to live once more and innumerable times more; and there will be nothing new in it, but every pain and every joy and every thought and sigh and everything unutterably small or great in your life will have to return to you, all in the same succession and sequence — even this spider and this moonlight between the trees, and even this moment and I myself. The eternal hourglass of existence is turned upside down again and again, and you with it, speck of dust!" Would you not throw yourself down and gnash your teeth and curse the demon who spoke thus? Or have you once experienced a tremendous moment when you would have answered him: "You are a god and never have I heard anything more divine"? If this thought gained possession of you, it would change you as you are, or perhaps crush you.
– Friedrich Nietzsche, The Gay Science
CLEVELAND – When the Bulls had the ball down two with under a minute to play in Game 5 on Tuesday, everything felt familiar. We had been here before. We are here again. We will always be here. Following buzzer beaters in Games 3 and 4 by Derrick Rose and LeBron James respectively, there had to be another buzzer beater coming.
That's a thing about Cleveland sports which can't be replicated just anywhere. These moments occur with such frequency, drumming up a familiar sense of dread sitting heavy like black gas-station coffee on an empty stomach, that there's no attempt to name them anything original. A simple "The" plastered in front of a descriptor is enough. They exist all at once and not at all, haunting every fan with a simple yet terrifying idea: There is no escape and nothing can be done to change this.
Just five years prior, almost to the day, LeBron James walked off the court at Quicken Loans Arena. He shot 3-of-14. He stood in the corner, acting uninvolved in the offense and almost daring his teammates to pick up the slack. He settled for jumpers. And he was battling an elbow injury. A smattering of fans tossed boos at him, and even though no one in the city wanted to admit it at the time, it really felt like there was a very real chance this would be the last time he'd be on the court in a home Cavaliers uniform.
Following the game, LeBron gave his memorable, "I spoil a lot of people with my play" quote.
A lot of people in Cleveland never really forgave James for that Game 5, for whatever reason. They called him such uninspired names as LeBum, LeQuit and LeFraud, all painfully tone deaf and bad. There would be five years until another home Game 5 in Cleveland. And in between were multiple trips to the lottery for the Cavaliers, multiple championships for LeBron, and a lot of learning on both sides. A homecoming was possible, but not at all guaranteed. While some opted to stay optimistic, most didn't let themselves get excited enough to imagine the possibility of James returning home. Things would be as they always were. Cleveland's cycle of waiting for next year would continue.
"Before anyone ever cared where I would play basketball, I was a kid from Northeast Ohio. It's where I walked. It's where I ran. It's where I cried. It's where I bled. It holds a special place in my heart. People there have seen me grow up. I sometimes feel like I'm their son. Their passion can be overwhelming. But it drives me. I want to give them hope when I can. I want to inspire them when I can. My relationship with Northeast Ohio is bigger than basketball. I didn't realize that four years ago. I do now."
These were the words that started off LeBron's essay to Lee Jenkins of Sports Illustrated last summer. In the midst of a playoff run that has seen just about every Cavaliers starter banged up, or worse, it's hard not to come back to what brought LeBron home in the first place. Northeast Ohio has a way of seeping into who you are and fusing with you. It's hard to explain if you aren't from there. A lot of people never leave, or are never able to leave, using excuses like family, or money, or a job, or the fact that this is where I'm from. Even the people who do leave often have a hard time identifying with somewhere else. Years later, after living in a place for a decade or longer, meet someone on a plane and ask someone where they're from, and they'll say, "I'm from Cleveland, but…" and they'll go on to tell you where they currently reside. LeBron was always a kid from Northeast Ohio, and he was always going to be a kid from Northeast Ohio.
LeBron's race to Miami was a necessary one. He had to leave. He accomplished what he wanted to accomplish while he was gone, and he returned home because that's a decision he had to make. Something drew him back. The first Game 5 set in motion an Anna Karenina-style bout of chance, coincidence and fate. And it's only fitting James gets compared to a (freight) train as often as he does.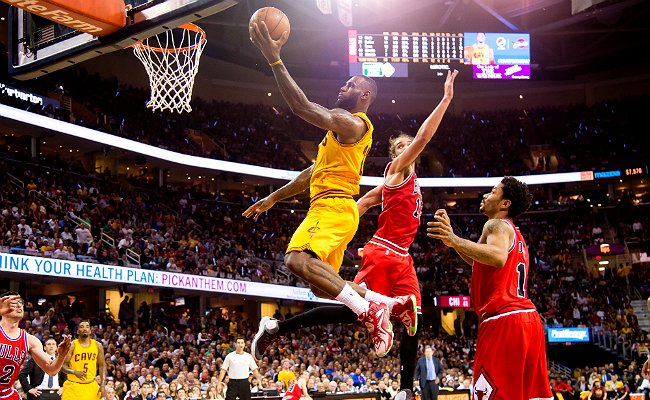 Cleveland dispatched the Celtics this time around, in four games, not even needing a fifth. But not without incident, as the mischievous ghosts of the past (with a little help from Kelly Olynyk) found a way to drag Kevin Love by his arm, and pull him out of the playoffs. And after those back-to-back buzzer beaters and a 2-2 tie, Game 5 was at home once again.
The crowd seemed tentative despite being given the same glowing light stick, things they were given on Opening Night that made pregame seem like some sort of scene out of a James Cameron movie. They were hopeful, but gun-shy. After an 8-0 Chicago run and an opening quarter that saw Rose score or assist on 16 of the team's first 22 points, there was genuine fear in the stands about this all happening again. Cavs public-address announcer Olivier Sedra has a way of saying the name of an opposing player, who recently scored a bucket, with so much disdain that it feels as though Sedra truly believes that guy just keyed his car.
Then LeBron happened. A breakaway slam announced his presence to cut the Bulls lead to 16-8, and he started 6-of-8 from the floor. In the second quarter, James had more points (16) than he had in all of the infamous Game 5 against Boston. This was the best he had looked in the entire second round, finishing with 38 points, 12 rebounds, six assists, three blocks and three steals, and in postgame, when it was brought to his attention that he committed zero turnovers for the first time this season, LeBron broke character for just a moment, his voice going falsetto as he raised his arms and said, "Yaaaaaayyyy, no turnovers!"
Cavaliers head coach David Blatt spoke of Shakespeare following Game 4, and there was plenty to try and read between the lines whether it was Blatt's attempted timeout at the end of the game when Cleveland didn't have any, or LeBron's changing of Blatt's final play to give James his now-unforgettable shot.
"It is just part of the drama," Blatt said. "Shakespeare wrote comedies, he wrote tragedies, he wrote tragicomedies, he wrote drama-comedies — at least in the movies nowadays you have a lot of those — and that's just part of this wonderful business we're all in."
Cleveland has seen this drama before and it will see this drama again, and LeBron deliberately put himself in a Groundhog Day scenario by returning home –  to break free or to endlessly play out his toss of the dice. The good news is this time around, the dice were loaded thanks to Kyrie Irving. Even on one foot, the former Duke guard and No. 1 pick is better than anyone James played with the first time he donned a Cavaliers uniform, and Irving battled through multiple injuries Tuesday to finish with 25 points and five assists, including some critical jumpers in the second half.
The Cavs built a 17-point lead at one point, and yet the Bulls came back, and they had a chance to tie, and the ball, in their best player and former MVP's hands. This game as they now played it and had played it, they will have to play once more and innumerable times more. Rose drove for a chance to tie it at 101. And LeBron blocked it out of bounds with 48.8 seconds to play. There would be no buzzer beater in Game 5. LeBron knocked fate off its proposed trajectory.
There's still a chance the Cavs may lose this series. Never put that past Cleveland. But the cycle, at least for a day, was broken. That has to count for something.
Following the game, in a bar on Prospect Avenue, two male fans decked out in Cavaliers gear put Mariah Carey's "All I Want For Christmas Is You" on the TouchTunes jukebox and danced in their own circle, clapping and singing every word. If it can be Christmas in May for a day, maybe it won't be Groundhog Day in Northeast Ohio, after all.