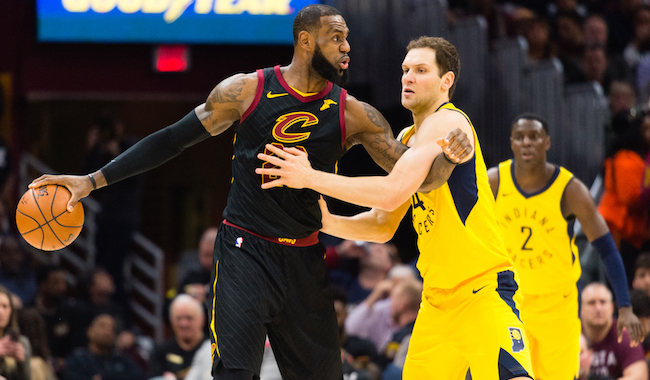 At halftime of Game 3 on Friday evening, LeBron James and the Cleveland Cavaliers looked to be in complete control. The defending Eastern Conference champions were heavily favored going into this series against the Indiana Pacers but were left stunned after a Game 1 loss. They bounced back with a win in Game 2, then took a 17-point lead into halftime on Friday night. And with a 54 percent shooting clip (including 50 percent from three) as a team, there were no signs that the Cavs would slow down after the break.
However, the bottom fell out for Cleveland in the second half, as the non-LeBron members of the Cavaliers combined to shoot 8-of-26 from the floor. Despite some heroics from James during the stretch run, Tyronn Lue's team tallied just 33 points after halftime (headlined by 15 from LeBron) and the final possession was oddly fitting as J.R. Smith was forced into an awkward heave that went begging as time expired in a 92-90 defeat.
While there is plenty of time for the Cavaliers to spring back to life in the series, the team's 2-1 deficit marks the first time in James' career that he trails by that margin in a first-round series.
In short, the final result had little to do with LeBron's individual performance, as he finished with 28 points, 12 rebounds and nine assists, scoring efficiently on only 22 field goal attempts and keeping the Cavs within striking distance during the final minutes with big shot after big shot. Still, the theme from earlier in the series of a lack of help for James was evident yet again.
Kevin Love, who is clearly the team's second-best player, performed admirably in scoring 19 points on 13 shots and generally playing at a high level. Aside from that, however, the rest of the team combined for only 43 points, with noteworthy struggles from Jordan Clarkson, Kyle Korver, the aforementioned Smith and others.
James' playoff pedigree and impressive resume provide confidence that a team struggling as badly as this Cavs team can still emerge victorious, especially in a first-round series against an unproven opponent. Still, the fodder provided by matching suits prior to Game 3 will keep the basketball world engaged in poking fun at Cleveland over the next few days, and simply put, members of the roster not named James and Love will need perform at a much higher level if the Cavs want to get back into this series.