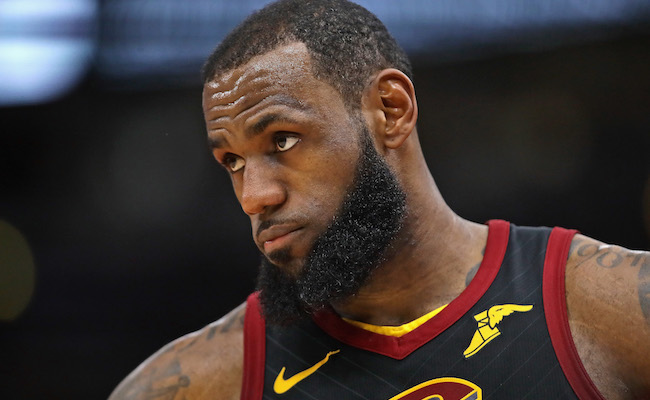 The Cleveland Cavaliers likely did not anticipate arriving for Game 3 in Indiana with their first-round series knotted at 1-1 but, when they did enter Bankers Life Fieldhouse on Friday evening, LeBron James and company did so in style. In fact, it was a coordinated effort, and the squad hopped off the bus and strolled into the arena wearing matching suits.
While this was clearly a coordinated effort, Dave McMenamin of ESPN shed additional light on the situation, including the fact that it was James behind both the idea and the execution. The ESPN report also brings word that designer Thom Browne put together the full ensemble at James' request, including "a white oxford shirt, a grey tie and a grey cashmere cardigan sweater" to go along with other accessories, including black leather boots.
James engineered the whole thing, including making sure each member of the roster was pre-fitted "several weeks ago." Obviously, James already acts as the leader and face of the franchise, but in keeping with his previous gifting practices of Apple Watches and, bizarrely, life-sized shields, he came through in a big way with this particular investment.
It has to be pointed out that a premeditated decision like this could come back to bite the Cavs from a public perception standpoint if they were to lose on the road against the Pacers. Still, it is a reminder (as if one was needed) that James is the epicenter of everything in Cleveland, and he transferred his style on to the rest of the team in this high-visibility spot.