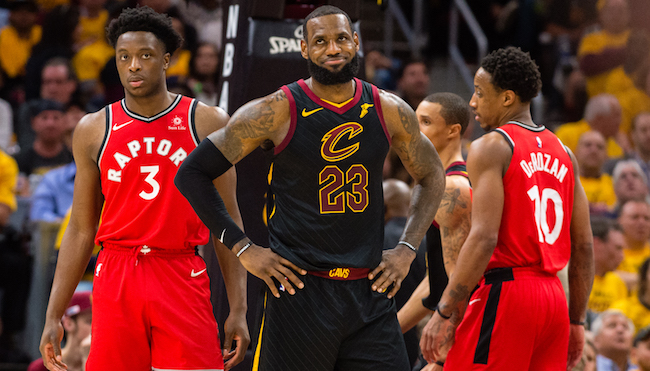 For the eighth consecutive season, LeBron James will be participating in the Eastern Conference Finals. That news became official on Monday evening, as the Cleveland Cavaliers zoomed past the No. 1 seed Toronto Raptors for the fourth consecutive game, this time in lopsided fashion.
Though the Raptors tried to hang around early, it was all Cleveland all the time and, in the first half, much of the damage was done by the duo of Kyle Korver and J.R. Smith. The pairing of veteran wings combined to connect on 11 of 12 field goal attempts, including 6 of 6 from beyond the three-point arc, and several of the buckets came in haymaker fashion.

It was not only Korver and Smith lighting up the scoreboard, however, as the Cavaliers combined to convert 62 percent of their field goal attempts and 50 percent of their three-point shots in the first half. James was tremendous in a facilitator role with 10 points, seven rebounds and six assists and, in keeping with his recent uptick, Kevin Love added 11 points to aid to setting the tone for what was to come.
After halftime, the fate of the Raptors quickly became academic, as Cleveland claimed a 24-point advantage before the 5:00 mark of the third quarter. The Cavaliers scored 22 points in the first seven minutes of action in order to essentially run away and hide and, in bizarre fashion, there was virtually an entire quarter of garbage time in a series-clinching game.
Predictably, it was James at the center of it all, unleashing an array of passes and crafty moves in the first half with more of a scoring bent after the break.
All told, the game's best player finished with ?? points (on ?? of ?? shooting), ?? rebounds and ?? assists in ?? minutes of action and James was thoroughly dominant along the way. The Cavs did receive another tremendous overall showing from Love (??) but, in short, the story of the series was the singular brilliance of James and his mere presence virtually asserts that Cleveland will be seen as a heavy favorite to reach the 2018 NBA Finals.
There will be plenty of time for introspection with regard to the Raptors and what was a damaging, four-game defeat but the Cavs will look forward to the next step with the benefit of a few days off to recover and prepare for another challenge.