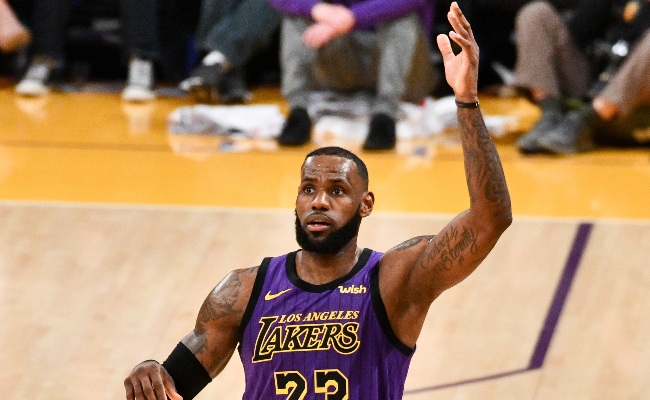 The Ohio State Buckeyes are champions of the Big Ten. Following last week's drubbing of the Michigan Wolverines to earn a spot in Indianapolis, the Buckeyes took on the Northwestern Wildcats and came out on top, 45-24. The star of the game was Ohio State quarterback Dwayne Haskins, who was on another level all night, going 34-for-41 with 499 yards, five touchdowns, and an interception en route to being named the game's Most Valuable Player.
Another guy who knows a thing or two about being named MVP was watching the game, which isn't a surprise, because there may not be a more prominent Ohio State fan than LeBron James. The Los Angeles Lakers star was stoked after his Buckeyes won the Big Ten, and after the game was over, James advocated for Haskins to take home the Heisman Trophy.

Haskins certainly has a case, as he's set a laundry list of Big Ten records this year while leading the Buckeyes to a 12-1 record.
As for whether he'll win it, well, that's a little more tough. Tua Tagovailoa of Alabama and Kyler Murray of Oklahoma have been out of their minds this season, and while Haskins had the best conference title game of the three, Tagovailoa and Murray both came into this week ahead of Baker Mayfield's record for passer rating in a season. Plus there's the issue that the Buckeyes might be on the outside looking in of the College Football Playoff, while the Crimson Tide might be the one-seed and the Sooners very likely could jump into the postseason, as they came into this week at No. 5 and the No. 4 team in America fell.
Still, James is right to advocate for Haskins. He's been tremendous all year, and on Saturday night, he showed that he's as good of a signal caller as there is in the sport. Now Haskins and the Buckeyes will sit and wait to see if they did enough to jump over the Sooners to earn a berth in the College Football Playoff.