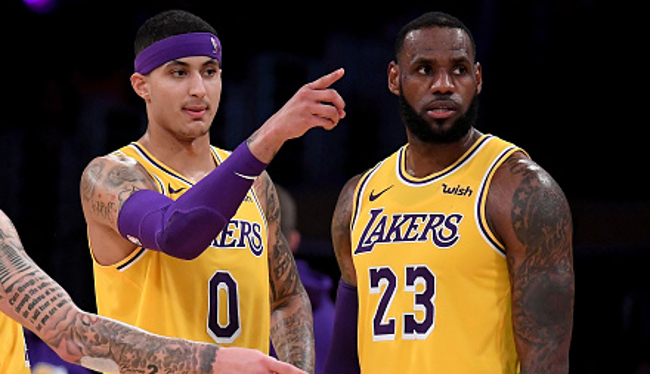 One of the central questions surrounding the Los Angeles Lakers this season and beyond is whether their quartet of young talent – Lonzo Ball, Brandon Ingram, Josh Hart, and Kyle Kuzma – has enough potential as a long-term supporting cast for LeBron James.
If Magic Johnson and the front office keep getting antsy and decided to make another move before the trade deadline in February, it's likely they'll have to part ways with one of them in order to land a star-caliber player. The question then would be which of them has distinguished themselves enough to secure their future in Los Angeles.
It's a relatively safe bet that the guys LeBron likes playing with will probably stay put, and according to his comments after a win over Phoenix on Sunday, it sure sounds like enjoys playing with sophomore forward Kyle Kuzma, who he's had a relationship with since before their days together in L.A. this season.
https://twitter.com/kylegoon/status/1069376694211899392
"Me and Kuz been talking even when I was in Cleveland," LeBron said. "He kinda wanted to pick my brain, and how he can get better and things of that nature, so we've always kinda had that mutual respect…Our relationship on the floor is getting better and better, and if he moves, I'm gonna find him. I'm always looking for him, and he knows that."
Kuzma had a very LeBron-like stat line against the Suns on Sunday with 23 points, eight rebounds, three assists, a steal, and a block on efficient 8-of-14 shooting from the field, including 3-of-8 from downtown.
It's performances like that that will endear him to both LeBron and the Lakers organization and help render his long-term prospects with the team that much more viable, especially if playing alongside Kuzma was one of the reasons LeBron went to L.A. in the first place.