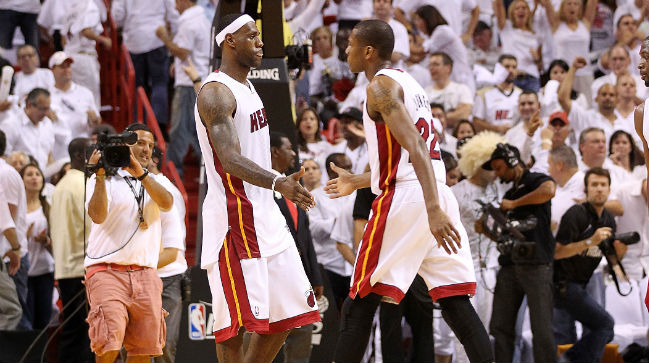 LeBron James has played with a lot of guys during his NBA career. Between his stints in Cleveland and Miami, along with his experience with USA Basketball, James has played with more world-class basketball players than most guys in the league.
He also has a noted appreciation for the game and its history, so if you ask James who his favorite NBA player of all time is, he can probably give a really good response. ESPN decided to try and get to the bottom of that question, and the answer is…well the answer isn't someone that anyone would expect.
It's not a legend of the game like Michael Jordan, Magic Johnson, Larry Bird, or Oscar Robertson, all of whom James has said are on his NBA Mount Rushmore. It's not one of the many superstars that James has played with during his career, which leaves out guys like Dwyane Wade, Chris Bosh, Kobe Bryant, Kevin Love, Carmelo Anthony and Kevin Durant.
No, James' all-time favorite teammate is James Jones, who you may know as a guy who has been a role player on the Miami Heat and the Cleveland Cavaliers during both of King James' spells with those teams. According to James, he has never had a better teammate than Jones.
"I told J.J., as long as I'm playing, he's going to be around," James said last week. "He's not allowed to stop playing basketball. So, I'm going to make sure I got a roster spot for him. I love him. He's the greatest teammate I've ever had."
Sure, this answer seems to be out of left field, but when James left Miami for Cleveland in 2014, Jones joined him. The 35-year-old veteran has had a very specific role on both squads as a marksman from downtown and a leader in the locker room – in the same story, a few other Cavs players expressed their admiration for the professionalism of Jones. Here's what Kevin Love had to say:
"I go to him with everything," forward Kevin Love said. "Whether it's the game, personal life, we talk about everything. He's a guy, I'm always just picking his brain …

"If you were in school, he'd be the guy to sit next to in class. So I sit next to him on the plane, I pick his brain in the locker room. I pick his brain about basketball. I pick his brain about my family. Everything. He's probably one of, if not, my best friend in the league."
Given the long list of players that James has come across during his career, hearing him say that his favorite player of all-time is a guy like Jones is really surprising. But after hearing how other guys in the Cavaliers' locker room praise the 13-year veteran, the honor makes more sense.
(Via ESPN)