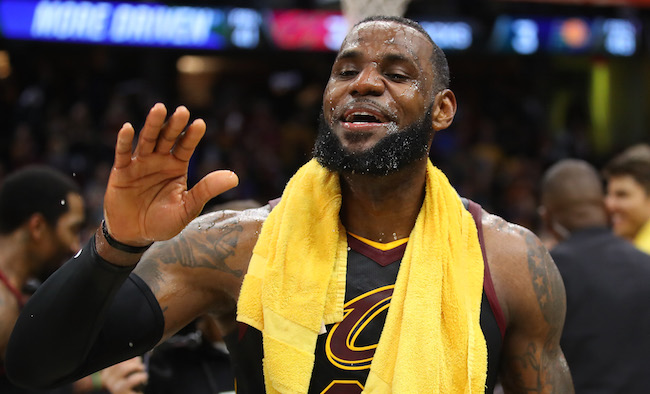 LeBron James' future in the NBA is very much up in the air. Will he opt-in to the final year of his deal or re-sign with the Cleveland Cavaliers? Will he join the Houston Rockets, or perhaps stay in the Eastern Conference and team up with Joel Embiid and Ben Simmons in Philadelphia? Or will he travel the country firing people as a proxy, gaining thousands of miles in pursuit of happiness through airline loyalty programs?
Probably not that last one, I suppose. He's far too good at basketball to stop playing just to fill out a joke centered around a 2009 Jason Reitman film. Anyway, LeBron James will play basketball next year. The rest remains uncertain.
But we now have some gambling odds if you'd like to try and profit off of the eventual decision James will make come July. At the very least, it gives us some insight into what Vegas feels is the most likely scenario for LeBron James' free agency.
It's a bit of a surprise that the Cavs have worse odds than three teams other NBA teams as of right now. The Lakers have long been rumored a favorite destination for James, and he has a home and business interests out that way. Los Angeles is still behind Houston, though, and tied with Philadelphia in the race to acquire the best player in the world.
It's at that point we find Cleveland, which have a bit of an advantage on everyone else because James could trigger his player option, delay free agency by a year, and return to the Cavs. Still, even though they're fourth, Cleveland is a much better bet than James to the Warriors, which is basically just a nice way to lose money for a fun story … right?