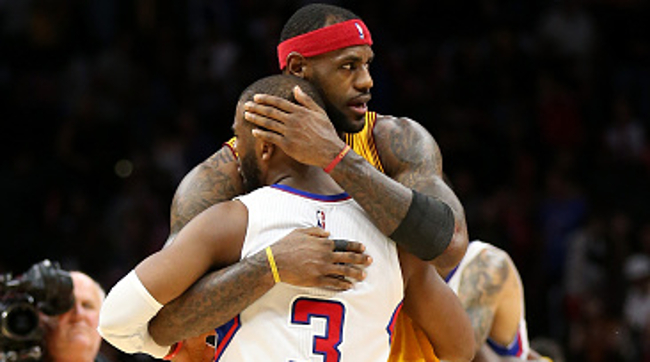 After losing to the monolithic Golden State Warriors in the NBA Finals, questions abound for LeBron James and the Cleveland Cavaliers. With the formidable assembly of talent in the Bay Area that appears poised to dominant the league for years to come, the Cavs now face the Himalayan task of trying to reconstruct their roster so that they are even capable of competing against them.
This series showed that even with huge efforts from LeBron and Kyrie Irving, the Cavs need more. The obvious starting point for many is Kevin Love, and whether Cleveland could make a trade to land an upgrade in terms of how they matchup with Golden State.
But an even larger and more terrifying question looms on the horizon for Cleveland: the apparently very real possibility that LeBron might leave again and ply his wares someplace else. On a recent episode of The Vertical Podcast with Woj, Adrian Wojnarowski reportedly believes that LeBron could very well end up in Los Angeles when he can opt out of his current contract next summer (h/t to Dan Feldman of PBT for the transcript).
Not only is there no guarantee he's coming back, I'm not sure there's an expectation he's re-signing there. I think they feel, I think within Cleveland and around the league, they feel that he's very much in play to leave again and likely head out West to one of the two L.A. teams. The Lakers could very well be a target.

The possibility of Miami again, based on how they, what that team looks like and where they are. Would Dwyane Wade go back there?

But I think the focus, a lot of LeBron's – his business interests, his Hollywood aspirations, his media ventures are based out there.

And I wrote this last year and said it and believed it: The minute he won that championship in Cleveland he was liberated to leave again. Now, if he had not won a title in Cleveland and then left again, I think there would be tremendous backlash again. But the fact that he came back and did what he set out to do, which was to bring a title to Cleveland.
Although the relatively-short-term contract LeBron signed last summer was largely seen as financially-motivated, given that it allows him to increase his salary as the cap continues to go up, it also left the door open for him to sign elsewhere should he decide he has a better chance to win another championship with a different team.

He's long discussed the Utopian ideal of one day teaming up with his banana boat pals, and the rumors about he and Carmelo Anthony joining up with Chris Paul in Los Angeles have been swirling for some time now. They'd all be forced to absorb pay-cuts, but James has proven in the past that he's willing to do so.
So much will depend on what the Cavs are able to do this summer. They clearly need another superstar-caliber player (Paul George is at the top of the current rumor list) to compete against the Warriors, but beyond that, they still have major questions about their depth.
If the Warriors once again blow them away in the Finals next spring, it could easily spell the end of LeBron's second stint in Cleveland.
(The Vertical; h/t PBT)