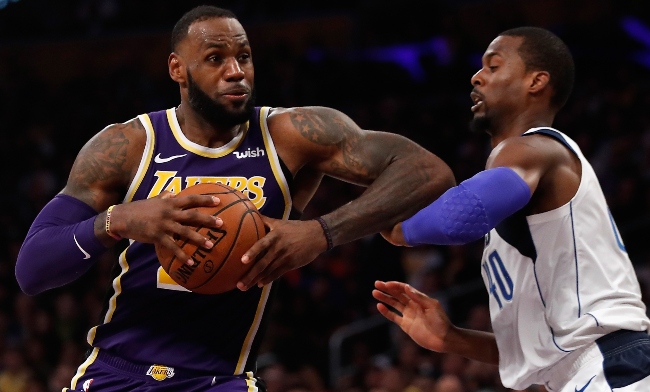 Harrison Barnes is on his way to Sacramento as the Kings and Mavericks agreed to a deal on Wednesday night to send the veteran wing to help Sacramento in the playoff hunt.
The Mavs will get a young player back in Justin Jackson along with Zach Randolph to make the money work, and all-in-all it seemed like a pretty solid trade for both parties. Dallas gets cap room for this summer, while the Kings — never really a free agent destination — get a wing upgrade in their best season in over a decade.
There was one thing that was strange about the deal, though, and that was that Harrison Barnes was in the middle of playing against the Hornets when the trade news broke. Barnes would get pulled from the game and sat through the fourth quarter, but it's rare that a player in trade talks is allowed to play at all the night of a trade — at the least they'll wait until after the game to let a deal be known.
LeBron James noticed how strange that was and took to social media to call out a double-standard he feels exists between when players make business decisions and when teams do it.

So let me guess this is cool cause they had to do what was best for the franchise right??? Traded this man while he was literally playing in the game and had ZERO idea. I'm not knocking who traded him because it's a business and you have to do what you feel what's best but I just want this narrative to start to get REAL/CHANGE and not when a player wants to be traded or leaves a Franchise that he's a selfish/ungrateful player but when they trade you, release , waive, cut etc etc it's best for them! I'm ok with both honestly, truly am. Just call a ♠️ a ♠️!!
James notes he's not calling out the Mavs specifically for this, because it is indeed part of the business. Instead he's challenging the way the discourse around player movement happens with regards to how teams are typically lauded for moves making good business sense when fans (and some media members) tend to take players to task for doing the same.
The subtext, of course, to all of this is that Anthony Davis is currently trying to push his way out of New Orleans and, by most reports, get to the Lakers where LeBron is (while sharing an agent with LeBron). Davis, seems to agree with James, unsurprisingly.

There is a long standing issue in sports of the amount of power players are allowed to exercise before they're labeled selfish, because we've all been trained to think the best thing in sports is being selfless and all about the team. On the flip side, the team making moves and cutting players and everything else is an understandable business decision, because as many will note it is, after all, a business. James wants that to change. He doesn't necessarily think it needs to change from the team side, but just wants fans to be as understanding about players wanting to do what they feel is best for themselves personally and professionally.
This will always be an issue and something players try to rally against, but so long as fans are fans of teams first and players second, it will unfortunately never work quite the same.
As for Barnes, it seems as though this wasn't malicious on the part of the Mavs, but instead a decision made by Barnes to play despite being given heads up before the game that a deal was possible, according to Paul Pierce.