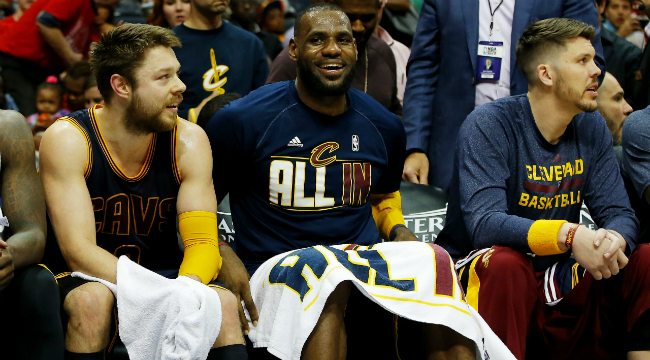 On Sunday evening, the Cavaliers traded center Brendan Haywood and small forward Mike Miller to the rebuilding Portland Trail Blazers for some cash, two trade exceptions and a bunch of salary-cap relief. It was a deal they needed to make to save owner Dan Gilbert some $28 million in luxury tax payments, considering how expensive it's been for the Cavs to keep together the core components of a roster that made the NBA Finals last year.
Brendan Haywood was always going to be traded this offseason. He had one year and $10.5 million remaining on his contract, a large number but completely non-guaranteed, which means that Portland can waive Haywood with no salary-cap penalty, giving them all the cap space they could possibly want as they recover from the stinging rebuke of LaMarcus Aldridge's departure. By trading him, the Cavaliers get a trade exception equaling the $10.5 million owed Haywood, which means that they can trade for a player being paid up to that amount without having to make luxury-tax payments on the contract they acquire.
Mike Miller is the tougher part of the equation for the Cavaliers. He's extremely close with LeBron James, so much so that some believe LeBron's exit from Miami was aided by his anger at the Heat cutting Miller before the 2013-14 season. So the Cavs, whose guiding offseason strategy is to keep LeBron happy, can't have taken the decision to get rid of Miller lightly. Luckily, LeBron apparently isn't as mad this time around:
The rumor that Miller asked to be traded has also been reported by Jason Lloyd of the Akron Beacon-Journal.
It makes sense LeBron would be more amenable to Miller leaving this time around if Miller wanted it for himself, and it's hard to argue with a guy who only appeared in nine of the Cavaliers' playoff games for an average of 7 minutes when he says he wants to play more. Of course, there's another reason why Miller won't mind being traded:
Both Adrian Wojnarowski, who first reported the trade, and Lloyd believe the Blazers will waive Haywood and negotiate a buyout with Miller to make them both free agents. Miller should find a suitor or two, as he's built a reputation as one of the best locker-room guys in the NBA and can still efficiently shoot the three ball. But one team who won't be signing him is the Cavaliers, who aren't allowed to bring Miller back for a year after trading him.
The Cavaliers' offseason still isn't complete, as they haven't yet reached agreements with Tristan Thompson or J.R. Smith, both of whom are widely expected to re-sign in Cleveland. The questions are, how much will they cost, and can Cleveland afford it? This trade will help them do so, which is probably the biggest reason of all that LeBron is reportedly OK with it.
(Via Ohio.com)