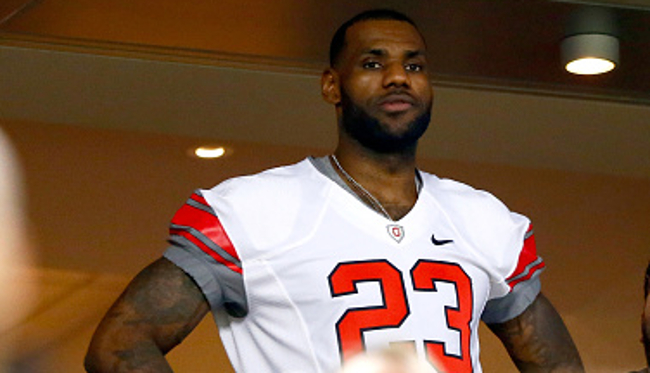 LeBron James learned a long time ago (back when he disastrously wore a Yankees hat to an Indians game in his younger and more formidable years) – that he has to stan for his hometown sports teams. In his defense, he's been a devoted fan of the Ohio State Buckeyes since way back when.
So when LeBron and the Cavs traveled to Detroit on Monday to play the Pistons, of course he was going to get asked about his Buckeyes' upcoming rivalry game against Michigan next Saturday.
The long-standing rivalry between these two college-football heavyweights has become known simply as "The Game" over the years, so when a reporter asked him about "The Game" at shoot-around on Monday, LeBron decided to play dumb and talk about the Pistons; then when it was clarified he was referring to Ohio State's game against Michigan, LeBron used that opportunity to cast some shade.
It would've been a solid burn, had LeBron not stumbled at the start and referred to it as "the Big House" before pretending not to know who the Buckeyes were playing this weekend, but oh well.
The No. 8 Buckeyes square off against the un-ranked Wolverines at 9 a.m on Saturday, Nov. 25 at Michigan Stadium, aka the Big House, in Ann Arbor.