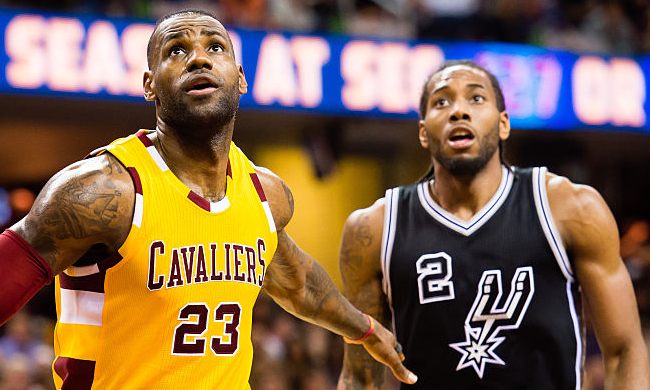 Like most of us, LeBron James thinks the Spurs' (latest) star big man, Kawhi Leonard, is a great basketball player. Some would even argue that he's the guy who could upset MVP favorites Russell Westbrook and James Harden for the top individual hardware.
As for James, he claimed last August that no one in the NBA defends him as well as Leonard does, which is obviously the highest praise. But what if — *cue overdramatically slowed-down movie trailer cover song* — LeBron James doesn't like Kawhi Leonard at all.
In a recent TrueHoop podcast, Tom Haberstroh, Brian Windhorst, David Thorpe, Tim MacMahon, and Tim Bontemps discussed a number of hot issues, including why it's important for NBA players to rest (suck it, whiny old columnists) and why Zaza Pachulia was never going to make the All-Star roster (nice try, hilarious fans).
In trying to predict the Western Conference's starting lineup (this was recorded before rosters were announced), the analysts agreed that Leonard deserved the honor, and Haberstroh really wanted to keep making the case for Leonard, despite a consensus that he was going to be in the game.
That's when Windhorst nonchalantly dropped this nugget about Leonard's popularity, or lack thereof, among players.
Windy: By the way, not everyone in the NBA feels the same way about Kawhi as you do.

Habs: What do they think?

Windy: There's some people who are frustrated Kawhi has gotten as much love as he has.

Other guy: I think you're just telling us what LeBron thinks.

Windy: It's not just LeBron, actually. There's other top players who feel the same way. Now, I'm not gonna defend their position, because I don't agree, but I'm just telling it.

From there, they had a quick debate about what this means, but it has to be that James and the "other top players" are mad that Leonard gets so much praise for his play this season, while the superstars are picked apart for every little thing they do or say. For example, while we're all talking about James' struggles with the Cavs' front office, whether or not Carmelo Anthony should be traded, and the ongoing beef between Westbrook and Kevin Durant, among many other topics, Leonard is the golden boy.
Check the recent headlines:
"LeBron James' biggest rival is Kawhi Leonard"
"Has LeBron, Kawhi or KD been the best SF this year?"
"Midseason NBA MVP race: Kawhi Leonard back in top five"
"Kawhi Leonard leads Spurs past Cavaliers in overtime"
Also related: "Why LeBron James Really Wishes He Could Play For A Coach Like Gregg Popovich." But it's that overtime headline that probably stings the most for James right now.
The point is this: Try finding a bad headline about Leonard. Maybe the media is going easy on the young star, or maybe he's just the new Tim Duncan. Regardless, James and the "other top players" better start digging up some dirt on the dude to soil his squeaky clean reputation, because otherwise he's only going to make them angrier.