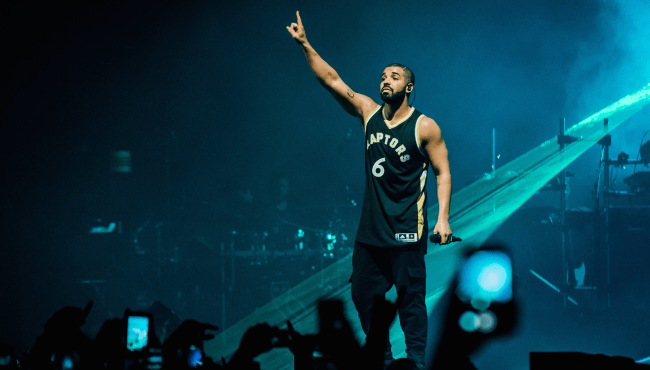 Drake is much, much more to the league than the Toronto Raptors' "global ambassador." As one of the most popular and prominent musicians in the world, his near maniacal love for basketball has helped usher in an entirely new era of NBA followers. And whether its stars are simply thankful for the additional exposure Drake facilitates or really are awestruck, players sure seem as enamored with him as the "6 God" is them.
Take the massive NBA contingent that descended on Toronto last weekend, for instance. The sixth annual OVO Fest not only served as stage for an unveiling of the Raptors' new uniforms, but also a basketball who's-who in general.
LeBron James was in town with his Klutch Sports crew for a kickball game against Drake and company that was ultimately cancelled.
But inclement weather didn't ruin the entire weekend. Kevin Durant was essentially a normal on-looker during the concert itself, and threw gasoline on Drake-led fuel that the Raptors could be an option in free agency by enjoying the music with Raptors star DeMar DeRozan.
The 2014 MVP also hung with the Detroit Pistons' Brandon Jennings while watching an "OVO Bounce" contest, a tournament hosted by Drake featuring high-level talent – including the Los Angeles Lakers' Jordan Clarkson and Toronto's own Corey Joseph and James Johnson.
Clearly, admiration between Drake and the league's players is mutual. Could that fruitful relationship lead to the Raptors becoming a more viable destination for elite free agents? Only time will tell for certain, but it definitely, definitely won't hurt.
Toronto is one of the NBA's most cosmopolitan cities, and the Raptors could have hordes of cap space to play with next summer. Don't overlook the fact that the franchise is led by general manager Masai Ujiri, too – his reputation as one of basketball's most aggressive front office personalities is yet another feather in Toronto's cap of which the players are fully aware.
Needless to say, keep an eye out on the Raptors. With Drake leading the way, they've an outside chance to become a unique and wholly unlikely glamor franchise going forward.
[Via sportsnet.ca] [Via Klutch Sports, via LeBron James, via OVO Bounce]