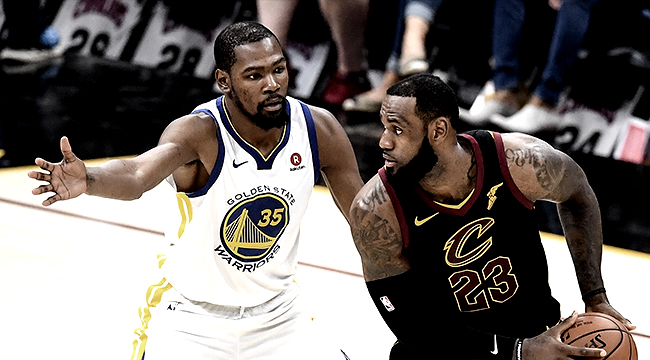 For the fourth straight year, the Golden State Warriors and the Cleveland Cavaliers battled each other in the NBA Finals, and for the fourth straight year, LeBron James slowly walked back to his locker room, staring a seemingly insurmountable deficit straight in the eyes following a heartbreaking loss on his home floor.
The Warriors took Game 3 on the shoulders of Kevin Durant, as his 43-point performance on 65 percent shooting propelled them to a 110-102 victory despite an off night for Steph Curry. Durant drilled a late, backbreaking three-pointer, bringing Quicken Loans Arena to a near-complete silence. Once again, the group toppled the individual as the league's best team had defeated the league's best player.
In a sense, LeBron failed against the mighty Warriors yet again. He deferred to Kevin Love and Tristan Thompson on key possessions late, which ended with a Love turnover that led to Curry's lone three-pointer of the night and a missed bunny from Thompson that led to Durant drilling his three to bury the Cavs seconds later.
A closer look at what occurred in the game's final quarter tells a different story. LeBron scored 12 of the Cavs' 21 points in the fourth, dragging them as far as he could. After a Rodney Hood jumper tied the game with 8:23 left, no other Cavalier made a field goal. The team shot 0-for-8 from the field while LeBron kept them afloat by shooting 3-for-6, including a key three-pointer late. Unbeknownst to the public, he was doing it all with a hand injury that required a soft cast between games.
Love was the only other scorer in those final eight minutes — he hit two free throws but missed his only field goal attempt, a failed tip in. J.R. Smith missed three three-pointers, all of them would have resulted in assists for LeBron. Thompson missed two shots in the paint that would have been LeBron assists as well. Hood missed one jumper in the lane after he was stripped and another meaningless shot in the final seconds after the result was decided.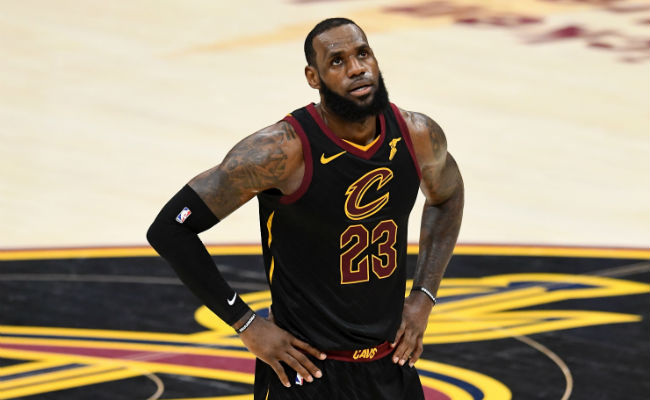 Those were the contributions from LeBron's teammates in the most important stretch of basketball of the season. Eight minutes, at home, with a 3-0 series deficit staring them in the face, and the best everyone not named LeBron could do was hit two free throws and miss all eight field goal attempts, five of which were created by LeBron.
On the other hand, while Durant scored nine points in the fourth quarter, it was a stumbling Curry layup that gave the Warriors the lead for good with 2:58 left in the game. It was a Curry three on the next possession that put things out of reach, and an Iguodala dunk that answered LeBron's three-pointer with 1:57 left.
While LeBron could have had five assists in crunch time, Durant had two, as Iguodala was able to finish a pair of layups facilitated by his teammate. While LeBron's teammates missed all eight shots they took down the stretch, Durant's made five of their eight attempts. In an eight-point game, those five made buckets are the difference.
Maybe LeBron could have done more — he missed three shots down the stretch, including two layups. But asking for even small contributions from teammates shouldn't be too much to ask. It's not too much to hope they, at the very least, remember the score in a key moment, or make a wide open three with the season on the line, or a free throw, or a layup. The Cavaliers struggled to get all of those, and it was the difference between a potentially competitive series and a sweep. Championships require contributions from the entire roster, and when the Cavaliers needed them the most, they got none.
One player can't win championships alone. They never could, but that is especially true in the era of these Warriors, where every player finds a way to make timely contributions on both ends of the court. LeBron and the Cavs have been the basketball martyrs necessary to show this to the world, but there's no way No. 23 wants to continue to be this sort of sacrificial lamb for greater understanding going forward.
In Game 1, 51 points wasn't enough for a Cavaliers victory. That type of performance required just the most minuscule contributions from teammates, but the contributions Cleveland received weren't enough. In Game 3, a 33-point triple-double didn't get it done, either, nor did double-digit scoring in the fourth quarter, nor did playing all but 68 seconds of the game. Over the series, 34 points, ten assists, and 8.5 rebounds per game weren't enough. It's a wonder what truly would have been "enough" to overcome the Warriors.


The mere existence of these Warriors might be the greatest compliment to LeBron and his legacy, as this was the machine required to beat him and keep him from winning multiple rings in Cleveland. Even then, he remains in striking distance after showing off just how much a one-man band can do over the past two months. LeBron has spent this season doing more with less than maybe any player before him. Never has a team this bad on defense come this close to a title, never has a player this far into his career carried this heavy a load and it might be unprecedented for a team this riddled with flaws to even managed to compete in June.
It didn't matter though, because the player could not beat the team. Basketball was always meant to work that way, even if LeBron got as close as we've ever seen to breaking that mold. That might be what sends the player elsewhere, seeking another team to vanquish the seemingly unbeatable.
Ultimately, it's not necessarily a superteam that LeBron will be looking for, it's those five shots and the minimal contributions that Durant got from his teammates in Game 3. LeBron will need those to win another championship, because that is necessary for any team to beat this juggernaut in Oakland. On a more personal level, LeBron needs this to chase down that ghost he mentioned after his last championship.
That help, those contributions and that support from championship-christened teammates is why Durant chose Golden State to begin with, and his savvy decision making has been rewarded with two championships so far. That help and support is what LeBron had in mind when he went to Miami in 2010 and returned to Cleveland in 2014. That's likely what he'll have in mind when he decides where he's headed this summer … unless, of course, he feels he can have that in Cleveland and he decides to stay.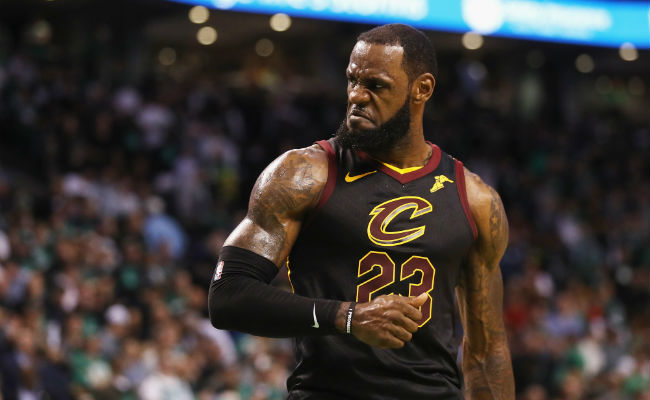 Interestingly enough, two potential destinations for LeBron need those five shots from somebody, too. The Rockets and Sixers were ousted in the postseason, partly due to subpar crunch time performances. Whether it was missing 27 straight three-pointers or failing to convert a layup on the biggest possession of the season, they both failed in the biggest moments of the season. LeBron could unlock those five necessary shots for those teams, and they could theoretically plug in the other holes for him. He could find shots at the rim for the Rockets when the threes aren't falling, or he can provide the late-game playmaking the 76ers needed against the Celtics.
LeBron reiterated after the Cavs were swept that he's still in "championship mode," and this summer, he'll look for a situation that will help him beat these Warriors and win his fourth ring. He'll spend the next few weeks trying to figure out where he can get those five shots, and once he makes his — [tugs on collar] — decision, he'll come back at his familiar foes reloaded, ready to redeem himself and finally get his revenge.
But who knows? Maybe the Warriors will continue to add to their roster, and more players capable of making plays and hitting big shots will come to the Bay. As they've shown in the past, they're always looking for players to help them topple the King, and they're damn good at making that happen.