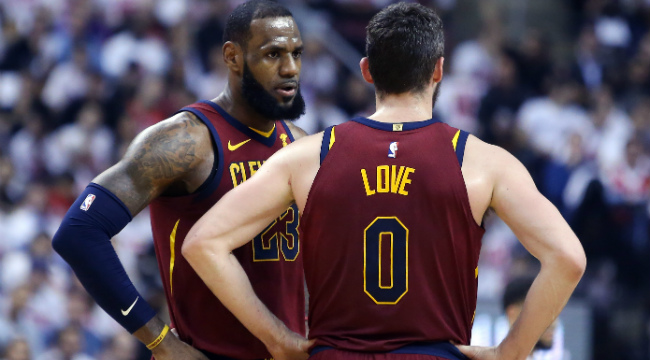 Sometimes, basketball is very simple. For example, sometimes, you have the best basketball player in the world on your team, and he's playing completely out of his mind, which helps you win. Other times you have an All-Star who looks like an All-Star despite a recent cold stretch, which helps you win. And if you're the Cleveland Cavaliers, and you are in Toronto for Game 2 of the Eastern Conference Semifinals, you get both of those things and just mash the Raptors.
The Cavs picked up a convincing 128-110 win on Thursday evening, giving them a 2-0 series lead and completely stealing home court from the Toronto. It was the kind of performance that made Cleveland's struggles in their first round tilt with the Indiana Pacers seem like a distant memory — the team that took the floor in Game 2 and the team that played against Indiana looked completely different, as this Cavs squad looks like it should make the NBA Finals for the fourth year in a row.
This is because Cleveland has LeBron James and Kevin Love, both of whom were out of their minds on Thursday night. Let's start with Love, as the much-maligned big man was brilliant, going for 31 points and 11 rebounds.
Cleveland made it a point to get Love involved early and often, and the All-Star delivered, finding the groove that has seemingly evaded him all postseason long. Love was used in a variety of ways early on, with the Cavs looking like they wanted to get him in as many situations as they possibly could to let Love use his size to go to work on one of Toronto's guards.

At the half, Love had 18 points and seven rebounds, which was one point off of his highest scoring output of the postseason. The more telling thing was how much Cleveland wanted Love to shoot: He went 7-for-14 in the first half, and while he ended the game with 21 field goal attempts, the message was simple. The Cavs had already stolen home court from Toronto, so they believed it was important to get Love going on Thursday.
It worked out brilliantly. Watch at how active Love looks on this possession, when he was standing in the corner and blew right by Jonas Valanciunas on a back cut for a layup.
James, meanwhile, might have had his most immense game of the postseason. He has a habit of seeming like an omnipresent figure at times, which is amplified during the postseason and especially when Cleveland is playing against Toronto. James just owns the Raptors in the playoffs, which was on display on Thursday night.
The best basketball player in the world had 16 points and seven assists at halftime. In the second half, he decided to impose his will on the game, and when the dust settled, James had thrown down an insane 43 points, 14 assists, and eight rebounds in 41 minutes. Here are some of the shots he hit. I am still laughing at most of them.

We even got an obscure stat out of this performance by No. 23.
There is nothing quite like when LeBron James is locked all the way in, and despite the fact that he wasn't happy the Cavaliers were playing on such short rest, he was as locked in as ever. For a Raptors squad that doesn't have a great history against him, that's terrifying news, especially as the series shifts back to Cleveland.
Three other Cavs players chipped in double-figure scoring, as J.R. Smith had 15, Jeff Green had 14, and George Hill had 13. As for Toronto, the backcourt duo of DeMar DeRozan and Kyle Lowry had 24 and 21 points, respectively. Valanciunas chipped in 16 points and 12 rebounds, while Fred VanVleet had 14 points.
Still, that is not enough for the Raptors. There isn't much outside of "everyone plays near-perfect basketball" that Toronto can do when James is hitting everything and Love looks like an All-NBA caliber player. Perhaps they turn things around in Game 3, but if they don't, Toronto could very well be on the verge of getting bounced from the playoffs by the Cavaliers for the third year in a row.