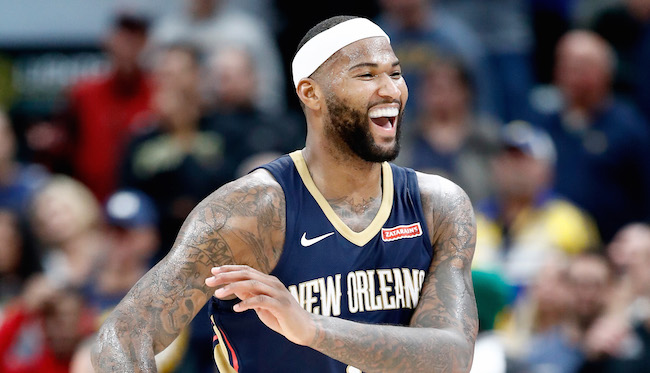 All signs seem to point to LeBron James being on the Los Angeles Lakers next season. We obviously can't know for sure until after midnight on July 1 and it can't be official until the moratorium ends on July 6, but as of now that seems to be the projection for most everyone.
Paul George, however, seems set to re-sign in Oklahoma City as he's headed to Russell Westbrook's massive house party (complete with Nas performing) as free agency begins. That begs the question of what star would be joining LeBron in L.A., given that his desire to compete in the immediate requires a significant roster upgrade besides just him.
Kawhi Leonard is a popular choice as L.A. works through trade talks with San Antonio, but he might not be available to them until next summer when he hits free agency if the Spurs choose not to make a deal with their rival in the West. David Griffin knows LeBron as well as anyone on television, and he pointed out that there is another major free agent on the market that he knows LeBron is a fan of in DeMarcus Cousins who could end up being the second star to join James in L.A.

"Everyone is waiting on Paul George and Kawhi Leonard," Griffin says. "There is a possibility that what gets it done in L.A. is pairing Boogie with LeBron, because that is a player that LeBron believes a great deal in. So if he can buy in to the fact that Boogie's recovery from injury and his rehab is on schedule that even by January he'll be the Boogie Cousins that LeBron believes in, that might be enough to sway the balance for you. Because if he intends on making a quick decision, that's one of the only things that could be solved quickly."
The point about that being a way to solve the "other star" problem quickly is a good one, as Leonard trade talks could very well drag out through the summer and may end up a fruitless venture. If George stays put, there is a significant drop-off on easily available star players for the Lakers to go after to pair with LeBron, and Cousins would be at the top of that list if he were healthy and still might be despite questions about that Achilles.

Kevin O'Connor of The Ringer reported shortly after Griffin's comments that Boogie was indeed a target of L.A. as a short-term max player to pair with James and take the risk on that injury.
If this is the case, it'll be a fascinating season in L.A. as Cousins could miss half the year as he recovers and how he'll play when he's back would likely determine where the Lakers would stand in the West.