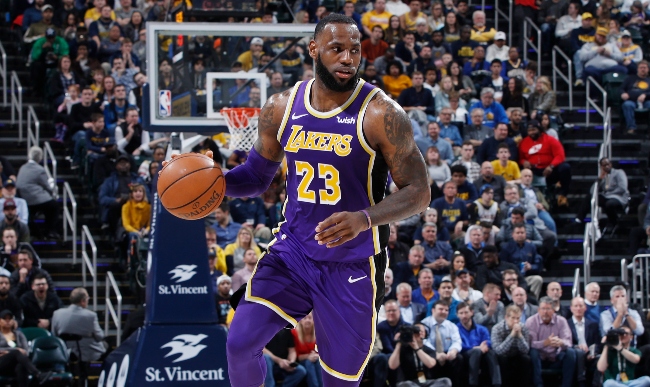 Let's just say the first year of LeBron James on the Lakers has not gone well. That would be putting it mildly. The best player of his generation is currently having his worst year since the 2004-05 season. The Lakers are a mess. They're not going to make the playoffs. James is pouting. Multiple streaks such as his NBA Finals streak, playoff streak, and All-NBA First team streaks are going to come to an end. It's been a disaster in every way.
Some of have questioned if James should have come to Los Angeles in the first place. He obviously went there for offcourt opportunities, but is it worth suffering so much on the court? Well, despite the results, it doesn't really matter because James is going to be around in Los Angeles for at least two more seasons.
After signing a four-year deal with a player option in the final season, James is in L.A. through at least 2021. No matter how disastrous this gets, Los Angeles should and will never consider trading him, right? There are some that think otherwise, including ESPN's Jeff Van Gundy who floated the idea that L.A. should at least listen to offers for James this summer.

Should the Lakers consider trading James after one bad season? No. Absolutely not. Is it way more fun to imagine the reasons for why they should trade him? Yes, because this is basketball and none of this matters. So, instead of just saying that it's not going to happen and leave it at that, let's think of what needs to happen for James to actually be traded.
The only way for James to ever end up in a trade from the Lakers is if next season is just as bad as this one. The Lakers have an opportunity to at least fix some of this by adding another star next to James to help take off some of the workload, but there's no guarantee that Los Angeles is able to pull that off. If it can't, and the Lakers have another season like the most recent one then all parties might be fed up with each other by that point.
Two years of missing the playoffs with James would start to have him considering his legacy. He might begin to consider retirement. When that happens it's all downhill from there and that's when trade talks start taking place. James camp is too powerful to let him get traded just anywhere and there's only one destination where he'll be happy retiring in. Cleveland. The Cavaliers will gladly bring back the man that won them a championship to finish out the twilight of his career. He can even use the 2022 All-Star Game as a giant sending off party. It's the perfect ending for James.
Of course, James can still achieve this ending by waiting out his Lakers contract and just opting out of his final year to go sign a new deal back home. That's the most likely result to all of this, should a disaster scenario take place in L.A., but the idea of a legend like James being traded from the Lakers because the two sides couldn't make it work is far too juicy to not at least theorize a bit.