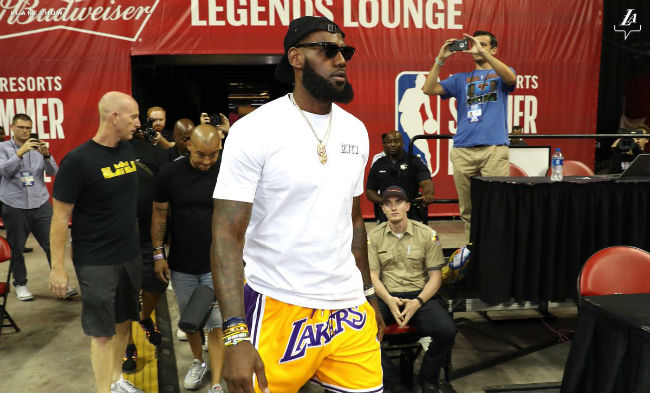 LeBron James made his first public appearance on Sunday since joining the Los Angeles Lakers when he showed up in Las Vegas at a Lakers playoff game at Summer League. Fresh off signing a four-year deal with the Lakers, LeBron has laid low since announcing he would join the team.
It was rumored that he may make an appearance in Las Vegas, and on Sunday, that rumor came true. While James wasn't in uniform on Sunday, he was wearing Lakers shorts when he came by to watch the team's youngsters.
James got a standing ovation from Lakers fans when he entered the building, as those who are not tremendous Kobe stans were clearly excited to have LeBron in the fold.
Josh Hart got some love from LeBron, as Hart was a notable Laker who said fans need to "be better" after some defaced a James mural in Southern California.
The Lakers official Twitter account was pretty excited about James in the house as well.

There's still a long summer ahead until James actually takes the floor for the team, but kicking things off in Vegas seems like a fun way to start the next part of your career.
I'm sure it was a thrill for young Lakers to get a taste of the media frenzy that will follow James in L.A., too.