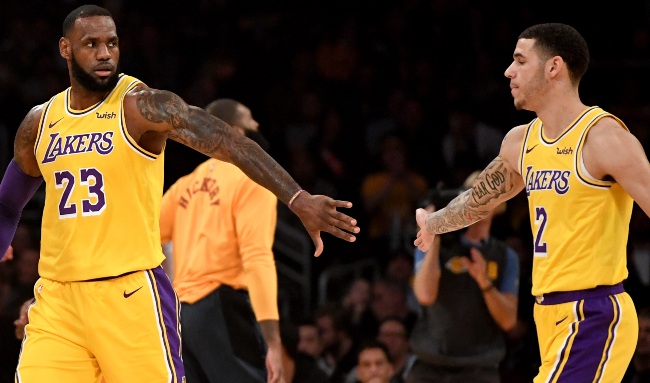 LeBron James and the Los Angeles Lakers moved to 18-11 on the season on Saturday night, picking up a 126-100 win over the Charlotte Hornets. It was a big night for James, as the best player in the world went for 24 points, 12 rebounds, and 11 assists over their Eastern Conference foes. For James, picking up a triple-double isn't especially surprising, but despite that, James and the Lakers managed to make history on Saturday night.
That's because James was joined by Lonzo Ball in picking up a triple-double. The Lakers' second-year guard had 16 points, 10 assists, and 10 rebounds (and five steals) against Kemba Walker and co., a very solid night that, in tandem with James, made the pair the first teammates in the purple and gold to go for triple-doubles in the same games since 1982.
Those two became the first Laker teammates to record a triple-double in the same game since Magic Johnson and Kareem Abdul-Jabbar, something that was not lost on the two after the game. Both spoke about the gravity of the moment, with Ball admitting he was made aware that the Lakers wanted him to go for the triple-double before the game's final frame.

James called the joining those two "elite company," while Ball said that teammates actually gave him a head's up about potentially reaching the feat.
"They told me start or the fourth and they wanted me to get it," Ball said afterward. "So I got it for them."
Slowly but surely, James is getting used to his new surroundings, and Saturday night was among his most memorable games in a Laker uniform. Both himself and Ball are capable of doing this on a nightly basis, so it might be safe to assume that this might not be the final time they do this over their tenure as teammates.