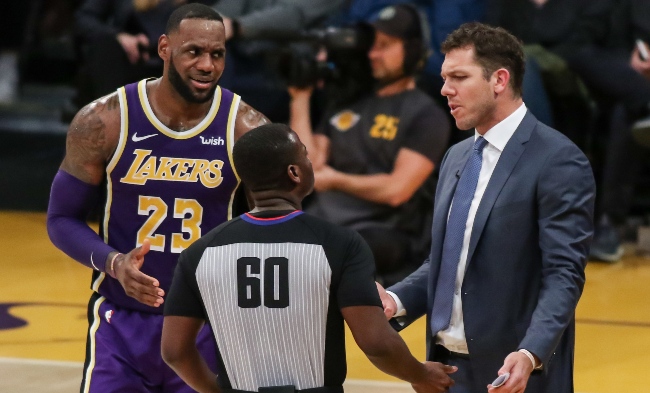 The Los Angeles Lakers' inability to make the postseason in year one of the LeBron James era has led to plenty of questions about the future of head coach Luke Walton. In a way, they make sense — the Lakers came into the year with a "playoffs or bust" mindset and Walton wasn't able to navigate them there.
At the same time, that lacks a whole lot of context, namely when it comes to the way Los Angeles' roster was constructed and with the seemingly endless wave of injuries that handcuffed what Walton was able to do. In fact, following the Lakers' win over the Clippers on Friday night, Walton expressed that injuries made it nearly impossible to do anything too advanced on offense.
Those injuries were a millstone around Walton's neck, to the extent that James defended his coach in an interview with Allie Clifton of Spectrum SportsNet. In James' eyes, Walton did the best that he could with what he was given.

I mean, as good as you could. As good as you can. No one expects for a suspension to happen on opening night (Rondo and Ingram in the home opener). No one expects for injuries to happen the way they did with our franchise this year. Where your starting point guard is out for numerous games. Your starting small forward is out. Your starting two-guard, B.I., is out. Josh is hurt. Rondo is hurt. I'm not talking two or three games here, everyone is back in the lineup. We're talking like 15, 20, 25 games. I saw something the other day where myself, B.I., Zo and Kuz only played 23 games together this year. 15-8. We had a defensive rating of fourth in the NBA, and we were like seventh in offense when we played together over 23 games.

As good as that is, it's not enough for Luke to even know what he has on a consistent basis, when you don't have a consistent roster every night during the season. Like you said, control what you can control and you've got to play the hand you're dealt, and I think he played the hand as well as he could.
Does this mean Walton is going to have a job once the team's season comes to an end? Who knows. There seems to be far too much smoke surrounding Walton's job security and who the team would target in the offseason to believe he's totally safe, and James saying this doesn't necessarily mean he has the star's full support or anything.
Still, James obviously understands that Walton had a tough go of it this season, and now, the question is whether Walton will get a third year in the City of Angels or if his coaching career will take him elsewhere.