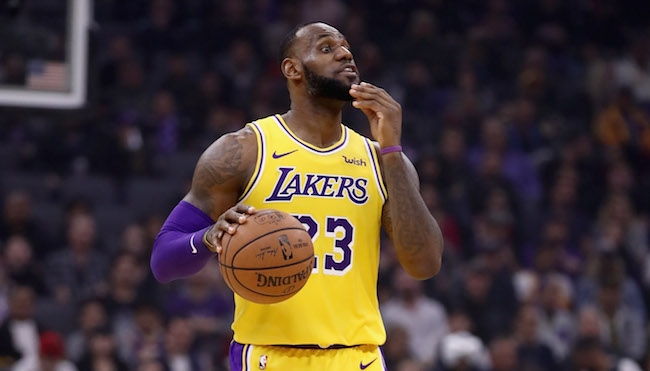 The Los Angeles Lakers took care of business in a 23-point road win on Saturday evening, and the victory came at the expense of the Memphis Grizzlies. Along the way, LeBron James put together a typically brilliant night with 20 points, nine assists and eight rebounds before exiting to the bench with more than four minutes to go.
Until that point, it seemed to be a fairly normal evening for the game's greatest player but, shortly after taking a seat, he was captured gifting his game-worn sneakers to a young woman.

It was clearly an emotional scene, as the woman was wiping away tears after an embrace from James and Mark Giannotto of the Memphis Commercial Appeal dug into the story. He found that the young woman is Brian'e Miller, an assistant equipment manager for the Grizzlies, and she spoke about what transpired.
"It's emotional because so many years I've been idolizing him," Miller said. "He has so many fans. That's the thing. I'm not a fan just when LeBron comes. I'm a fan when he's not looking, so it was just really cool to see him appreciate me."
James was later prompted about the exchange in his post-game interview.

"Every year I've come here, she's always worn a very exclusive pair of my shoes and I've always noticed it and I've never said anything to her," James said. "And tonight, I said something to her for the first time and she was like, 'Yeah, I've always been Team LeBron. Always.' So she got a pair of LeBrons."
Given the power of James, it isn't a surprise to see a fan of his become emotional when receiving a gift from him but, in the same breath, this was a poignant moment and it seemed as if he was taken by her dedication. On cue, the video made the rounds in a viral manner but it goes well beyond that. James took the opportunity to make someone's day, or even year, and did so with a genuine (dare we say, holiday) spirit.