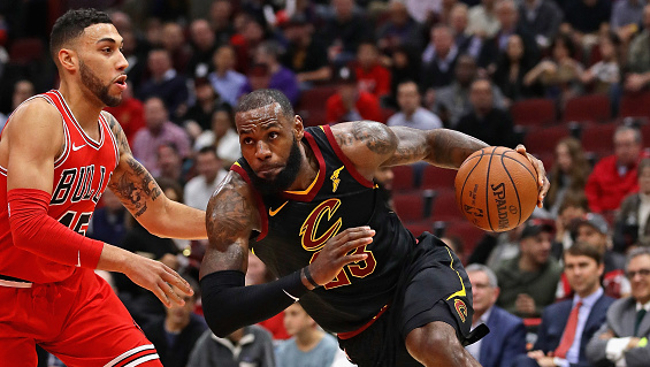 You've seen those viral Kobe Bryant/Michael Jordan identical plays videos. They're a testament to just how carefully Kobe modeled his game after his idol and one of the primary reasons why the Mamba's career will always be compared to His Airness.
LeBron James will likewise always exist in the shadow Michael Jordan's legacy, and on Monday night in Chicago against the Bulls, he proved that Kobe isn't the only one who's studied MJ's vast repertoire of moves.
Even Phil Jackson has admitted that one of Michael's greatest assets was his enormous hands, which allowed him to palm the ball and just generally exert greater control over the rock. Never was that more on display than his various one-handed ball fakes that juked defenders out of their shoes. LeBron did an uncanny impression of that on Monday.
And what would Michael Jordan mimicry be without reproducing his signature move, the turnaround fadeaway jumper? It's not a move that LeBron breaks out very often, but he executed it to near-perfection against Jordan's former team.
After all, he had to find a way to keep himself amused during a meaningless early December game against literally the worst team in the entire NBA. And this is definitely a trend we'd like him to keep going. During each road game, LeBron has to pay homage to that particular franchise's greatest player breaking out some of their signature moves. It's an idea I think we can all get behind.