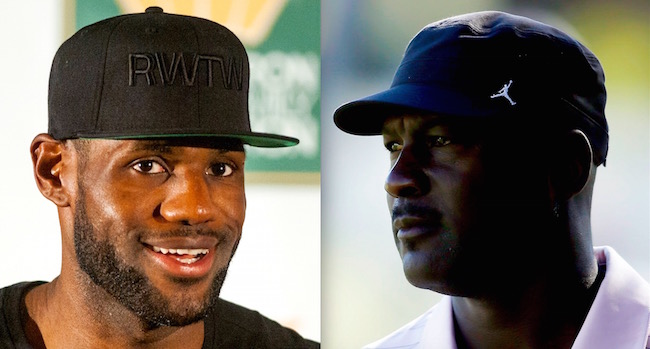 LeBron James can't touch Michael Jordan as a player.
It doesn't matter how his career unfolds from this point forward. There are too many marks on The King's career resumé for him to ever measure up to His Airness in minds of the masses. James might very well be better at basketball than Jordan, and perhaps the former will even match the latter's six Larry O'Brien Trophies some day, too.
But James has already lost in the NBA Finals on four separate occasions. His decision to leave the Cleveland Cavaliers for the Miami Heat disenchanted a sizable portion of sports fans, and stands in stark contrast – in their eyes, at least – to Jordan's longstanding commitment to the Chicago Bulls. Then there's the myth of each legend's respective merits in the clutch.
The seemingly never-ending debate about whether James stacks up to Jordan is pointless. Those who believe he does will always be in the minority. When it comes to at least one aspect of their status as league icons, though, their roles will forever be reversed: Jordan opted against the social activism that's recently become a hallmark of James' ethos.
We'll let ESPN's Howard Bryant do the talking for us.
James is the signature socially conscious athlete of his time. By this measure he need not aspire to be Michael Jordan. He's already run right past him.

[…]

James has accepted a challenge of his times so foreign to the 1980s, making him an heir not to Jordan but to the civil rights movement, to Jim Brown and Bill Russell, to the idea of the athlete as activist. Every day of his career has existed under the shadow of Jordan, but as citizen, LeBron does not look up to Michael. It should be the other way around.
Bryant's column on the drastically disparate levels of activism from James and Jordan deserves a full read. It's excellent, and highlights a key difference between the pair that's somehow gone almost completely overlooked.
Both James and Jordan carefully constructed their public personas. Whereas the Chicago Bulls superstar strayed from the fray of social issues, however, his Cleveland Cavaliers counterpart has risen to its forefront. James and his Heat teammates donned hoodies in the aftermath of Trayvon Martin's unnecessary death. He followed Derrick Rose's lead by wearing an "I Can't Breathe" t-shirt in support of Eric Garner and protests related to police killings of unarmed blacks. In conjunction with the University of Akron, he's helping send more than 2,000 children from his impoverished hometown to college.
Jordan, basically, can have the distinction as the greatest player ever, but he'll never have the real-world impact that James continues to make on a daily basis – and that's what should matter most.
[Via ESPN]