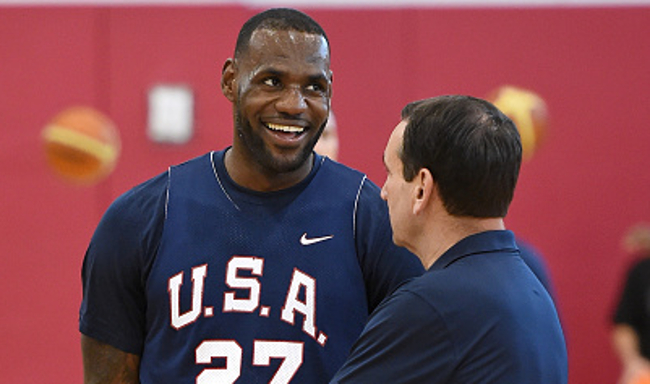 LeBron James has accomplished just about everything he wants to accomplish in his career. He won a couple of titles with his buddy Dwyane Wade in Miami, he brought a championship to Cleveland in the most dramatic fashion imaginable, and he's piled up so many NBA records and awards that it's hard to even keep track.
At this point, he's just doing what he wants to do. By his own admission, he joined the Lakers just because he wants to be in L.A. That's his prerogative. Another one of his pie-in-the-sky goals is to maybe stay in the league long enough to play alongside his son, LeBron James Jr.
The 14-year-old Bronny is already turning heads as a high school hoopster in his own right, and it appears that if dad has his druthers, the royal heir will spend his requisite college season at Duke with legendary coach Mike Krzyzewski, according to a recent Instagram comment.

LeBron and Coach K, of course, have a long history together that comes from their time with USA Basketball. Coach K took over as coach of Team USA back in 2008 to lead the "Redeem Team" on their mission to bring Olympic gold back to its rightful place in America.
Krzyzewski is one of the NCAA's savviest talent recruiters, so if young Bronny is anywhere near as good as his namesake hopes he can be, it's safe to say Coach K (or whomever is at the helm in Durham) will have him on his radar. Of course, Duke might very well already have the second coming of LeBron on their roster right now in Zion Williamson, and we're only half joking about that.