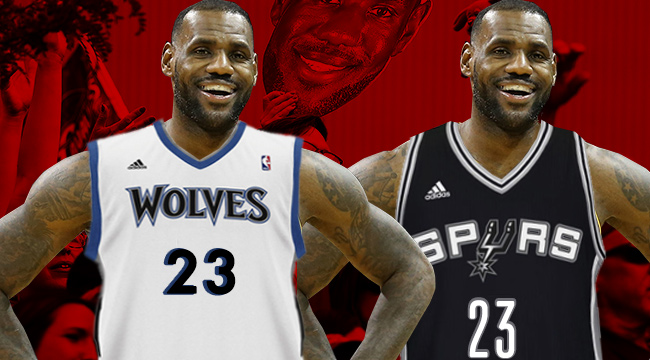 The Cavaliers are, almost assuredly, not going to win the NBA Finals. They face a 3-0 deficit, something no team has ever come back from in NBA postseason history, and to make matters worse they're up against one of the best teams in NBA history in the Golden State Warriors. Whether the series ends on Friday night in Cleveland, Monday night in Oakland, or later, Cleveland is likely to have some soul searching to do.
The Warriors will, by all accounts, run it back next year with the same group after re-signing Kevin Durant and Steph Curry this offseason, which would mean that their Big 4 with Durant, Curry, Klay Thompson, and Draymond Green would be locked in through the 2018-19 season. That means opponents are going to need to get significantly better in order to compete with them for the next two titles. That's a tough thing for Cleveland to do with how little cap space they will have to tweak their lineup and add more firepower to counter the Warriors.
Because of the uncertainty of how the Cavaliers can possibly make the necessary additions to beat Golden State, the rumors have already started about LeBron James potentially leaving next summer when he hits free agency. James will have fulfilled his promise to Cleveland by bringing them a championship, and could possibly feel as though his guilt for leaving the first time had been wiped clean and pursue other options for the final chapter of his career. Both Los Angeles clubs were floated as possibilities because of his status as an L.A. homeowner and because both could offer unique opportunities and entice James.
Those rumors are based on whispers from league sources, which ultimately mean nothing, but indicate that teams suddenly feel as though there is a non-zero chance that James at least entertains the idea of leaving Cleveland again in 2018. If James were to test the market and hold meetings, all 30 teams would line up at his doorstep for the opportunity to pitch arguably the greatest player of all time on why he should close his career with their franchise.
I'm here to offer a ranking, 30 to 1, of the likelihood LeBron James would choose that franchise for his final (or close to it) significant NBA contract.

30. Brooklyn Nets
First off, the Nets are terrible and LeBron wants nothing to do with dragging some sad roster to the playoffs to end his career. That was what he did early in his career to pay his dues, and it's not how he goes out. Second, there's no way Jay Z wants LeBron that close to Beyonce on a regular basis.
29. Sacramento Kings
"Come play with Buddy Hield!" is not the best pitch. Although, I would love to see Vivek try to sell LeBron on never having to play defense again in his 4-on-5 system.
28. Orlando Magic
"Remember how much you loved Miami?! OK, great, now take away the beach, hot club and food scene, etc. and replace those with having to deal with normal Florida things plus tourists and theme parks. Also, the roster is an unmitigated disaster. Wait, where are you going? Don't walk out that do–."
27. Atlanta Hawks
"Dwight Howard is super fun to play with. Remember when he crushed you back in 2009? I promise he's still the same guy and everyone loves him. No, why are you texting Kobe and James Harden? They just didn't understand him. BUT WE HAVE FUTURE AND THE GOLD ROOM AND MAGIC CITY and, oh hell, you'll just come visit Atlanta like every other NBA player and then go home when you're done having fun."
26. Phoenix Suns
The best pitch the Suns have going for them is that the warlocks that make up the Phoenix medical staff would likely keep him healthy to the age of 50. I don't think LeBron likes golf enough for that to be something to go into the "pros" list, but hey, come teach Devin Booker to be more than a volume scorer and play for another decade isn't the absolute worst pitch.

25. Detroit Pistons
Stan Van Gundy's cool. Remember that picture of him on a bicycle looking like a badass?! Yeah, he's great. Andre Drummond is large and rebounds, and Reggie Jackson makes lots of money to play point guard. Those are the nicest facts I can think of about the Pistons right now.
24. Charlotte Hornets
"You know that guy everyone has compared you to for your entire career? Come play for his mediocre team."
23. Indiana Pacers
"Maybe you can convince Paul George to stay here with you and not go to the Lakers. Please? We have really good shrimp cocktail."
22. New York Knicks
I know that New York has some great off-court selling points. They also have his buddy Carmelo Anthony and Kristaps Porzingis. However, Phil Jackson would manage to ruin this meeting by talking exclusively about LeBron playing in the Triangle.
21. Chicago Bulls
"Dwyane was here, but he's a free agent now so who knows. We might have already traded Jimmy Butler and our front office is a dumpster fire. You could resurrect the franchise that hasn't won anything since Jordan left, though!"

20. Philadelphia 76ers
"Come complete The Process." *Joel Embiid slides a Shirley Temple across the table* Having fun with Embiid in Philly is a pretty strong pitch, but that's about all they got.
19. Dallas Mavericks
Dirk might be gone by then, but Cuban could throw in some serious cash towards Uninterrupted. I'm regretting having Dallas this high after thinking about what their roster will look like post-Dirk, but LeBron does love the Cowboys, so maybe it can work.
18. Portland Trail Blazers
Dame and CJ are fun and Portland's nice, but LeBron's a wine man not a craft beer guy. Also, if we want to look at realism here just a little bit, Portland won't have cap space again for the rest of this decade.
17. Denver Nuggets
Nikola Jokic is awesome and weed is legal. That's about what the Nuggets can boast here and one or both of those things might not interest LeBron.
16. Toronto Raptors
You know that team you beat the hell out of seemingly every playoffs? No, not the Hawks. The other one. Yeah, come play for them next to a guy that has a horrid shot selection. Toronto is very nice though and you could hang out with Drake.

15. Minnesota Timberwolves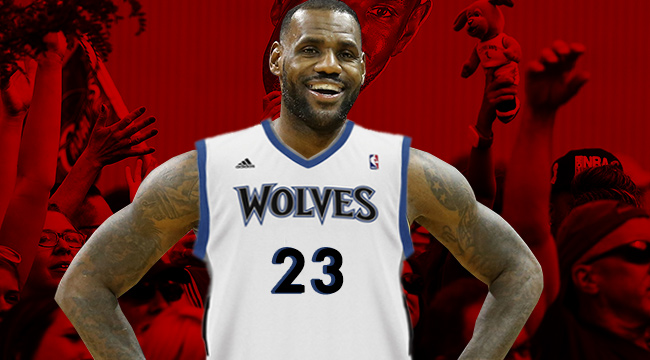 Karl Anthony-Towns would be legitimately amazing next to LeBron. There aren't really enough other pieces there to make this work, but I would love to see those two play together.
14. Memphis Grizzlies
Memphis is this high because I — not LeBron — love BBQ and think that is a huge selling point. Mike Conley and Marc Gasol are fantastic and would work very well with LeBron, I just don't know how long the rest of that team will be around.
13. Miami Heat
Get the old band back together! I would pay so much money for LeBron to drag Jim Gray out, reenact "The Decision" in its entirety, word for word, and announce he's going back to the Heat. There are almost no basketball reasons to do this, but Miami is a pretty sweet place.
12. New Orleans Pelicans
LeBron could just eat and drink and make the NBA big again with Boogie and Anthony Davis. I love this idea. Boogie and The Brow and The King and beignets.
11. Utah Jazz
Utah's off the court selling points might not be that high, but this is a team on the rise and if you tossed LeBron in the mix it could be very fun.

10. Washington Wizards
LeBron with Wall and Beal would be phenomenal, and it'd be kinda funny after all that weird beef he had with DeShawn Stevenson a decade ago if he ended up in D.C.
9. Boston Celtics
I can't imagine LeBron in Boston and I don't think Boston with LeBron competes with the Warriors all that much better than Cleveland with LeBron, but maybe Markelle Fultz is a beast and makes James want to go there. Or he gets amnesia mixed with Kevin Durant's mindset, thinks it's 2011 and wants to join the team he hasn't been able to beat in the playoffs. I don't know. This might be too high.
8. Houston Rockets
Just run and be free and play small ball four with James Harden and make beautiful offensive basketball.
7. Oklahoma City Thunder
RUSS AND LEBRON. RUSS AND LEBRON. RUSS AND LEBRON. RUSS AND LEBRON. RUSS AND LEBRON. RUSS AND LEBRON. RUSS AND LEBRON. RUSS AND LEBRON. RUSS AND LEBRON. RUSS AND LEBRON. RUSS AND LEBRON. RUSS AND LEBRON. RUSS AND LEBRON. RUSS AND LEBRON. RUSS AND LEBRON. RUSS AND LEBRON. RUSS AND LEBRON. RUSS AND LEBRON.
6. San Antonio Spurs
If the Spurs land Chris Paul this coming offseason then they're like four spots too low here. If not, still enticing and Pop and LeBron could start a wine club together.

5. Los Angeles Lakers
If they land Paul George, I get it. The points made are valid that he has a house there, has the budding media and entertainment company, and with George, some development of the young guys, and some better vet pieces this could be a really nice squad. If they don't land George, they're 10 to 15 spots too high.
4. Milwaukee Bucks
I love this. LeBron and Giannis would freaking terrorize everyone. Get them a marginally decent point guard and that team is murderballing the Eastern Conference for the next four years. Also, cheese curds, man. Cheese curds.
3. Los Angeles Clippers
The temptation for the banana boat reunion tour is so real for LeBron. They could get the whole band together pretty easily — re-sign Paul, sign-and-trade Griffin for Melo, land Wade and LeBron in the summer of 2018 — and James would love it. Just going around the country with his buds. He could document the whole thing with Uninterrupted. This makes more sense, to me, than the Lakers.
2. Cleveland Cavaliers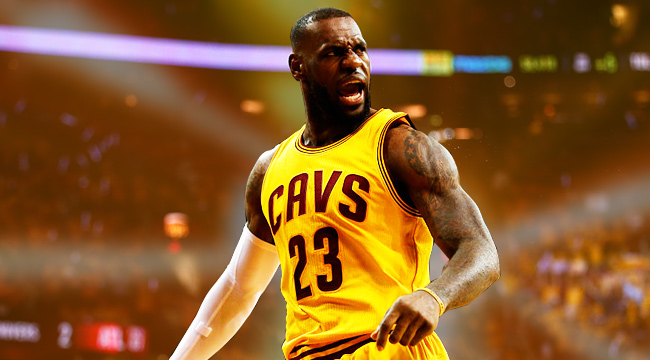 This is what is going to happen. I don't mean to drop a #sources on you in a stupid, silly post, but in speaking with folks that know LeBron he's set up shop in Akron and is very happy to raise his family there. He realized how bad The Decision was for his brand and he won't want to screw that up. This has little to do with basketball — although, in Cleveland he essentially can run the show — and everything to do with family and his future. But, anyways, enough with that, let's get to the way more fun scenario here and the one that would be the absolute best.
1. Golden State Warriors
Do it. Sign that vet minimum and go win four rings in Golden State to pass Jordan in the #RINGZ discussion and essentially destroy the NBA as we know it. Steph/Klay/KD/LeBron/Draymond starting lineup. Torch it all. Retire with your seven championships, middle fingers up to the haters, LeBron. Embrace the dark side like Hulk Hogan joining the NWO.