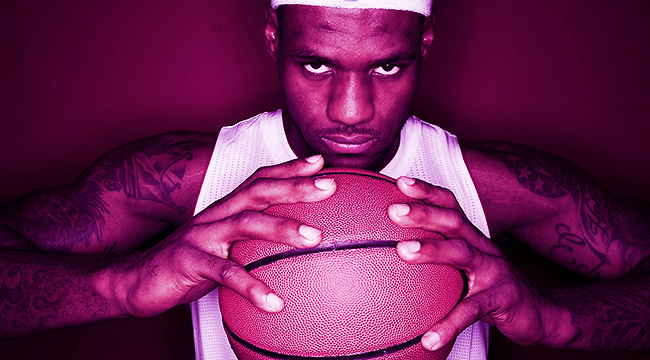 It was the clarion call heard round the world, making headlines from Manila to Quebec City, Brisbane to Sri Lanka. A loaded statement of dissent that would go on to become a qualifier, a where-were-you-when, crammed into two, technically one, word: "U bum".
'U bum' was beautiful because it was such a distilled sentiment, sure, but in its freewheeling, totally flippant undertones was the bedrock of something a lot bigger. LeBron James is outspoken and incredible, always. But as a player, as a representative of a franchise and more largely, the league that it's in, he exists within a spectrum of identities that range from 'employee' to 'role model' to 'epitome', often in the same breath. But in all these identities he's supported. Yes because he's who he is, but mostly because the NBA is decent.
Decent seems unimportant, just a minimum qualifier. And it would be if we currently found ourselves in a world that didn't feel like getting sucked face-first into a vacuum of accelerating bullshit every day, but as it stands, decent is something special. In straightforward actions like supporting its employees, giving platform to their voices even if it might catch the organization some grief, the NBA has perpetuated decency to the point where it is one of the most progressive organizations around, and certainly the most progressive league in professional sports.
It was that radicalized competency that underscored James taking to Twitter to effectively dismiss the President. He was coming from a place where whatever would happen he'd feel the support of his coaches and colleagues scaffold around him far more than he'd face certain backlash. The Player's Association and the Commissioner of the NBA voiced immediate support for James through official and highly visible channels. Players followed suit in more entertaining ways. But what made it so remarkable is it wasn't some watershed moment. It was just another day in basketball.
https://twitter.com/KingJames/status/911610455877021697
Big moments that meltdown Twitter for a minute, like LeBron's subtle lambasting of the president, are spotlights on the NBA. It's easy to see the way the league would support its most valuable player while he entangled himself with a walking trigger finger who has hair for brains, but the quiet actions of the league when the spotlight swings away are all the more illuminating.
Around the time basketball fans were barely catching a breather from what will historically be known as The Offseason That Shattered Some Perfectly Good Summer Vacations, the NBA named Michelle D. Johnson, a retired Air Force general, senior vice president and the head of the league's referee operations.
The first woman inducted into the Air Force Sports Hall of Fame, Johnson will oversee the NBA's officiating program, which encompasses recruitment, training, development, and evaluation of the league's roster of refs. She'll also oversee the NBA's Replay Center. Johnson's credentials got her the job, but there were women before her who had a hand in shaping the league so an appointment like Johnson's—someone who eventually will be able to say she spent as much time in the Pentagon as she did alongside Moon Dog — flies a little under the radar.
Violet Palmer and Dee Kantner were the first women to officiate in the NBA, in any all-male U.S. major league sport, when they hit the court in 1997. Met with open hostility by players ("I don't think women should be in the Army and I don't think they should be NBA refs," said then Rockets forward, Charles Barkley) and coaches ("I don't believe they could be the most qualified of all the referees out there," said Phil Jackson) alike, Palmer and Kantner went on to have long and successful careers within the league. They put down the running lights for Michelle Johnson so nary a peep was heard from guys like Barkley, who apparently forgot he didn't agree with women as refs or women in the Army, and would find both these things in Johnson.
The NBA is a very visible sport. Players wear no heavy equipment, the ball — big and orange — is lobbed around a game that is pace-filled, but not too fast to follow. Off the court, players are easily spotted. Some have endorsement deals, more have clothing or lifestyle brands, and almost all have some form of social media.


Of course, progress is made easier when those who will steward it are in positions of power, and Adam Silver being appointed Commissioner signaled an acceleration of the NBA as a league that started to see its visibility as a selling point. Booting ancient racist Donald Sterling was also a pretty good way to begin practicing radical, progressive transparency, too.
Though it trails the NFL in profits and popularity, the NBA has used the visibility of its players and people as a differentiating tactic. Players are extensions of their franchise but can also exist alone, as ambassadors of the league, its brand, and its values. Subtweeting between players could be its own stat in fantasy and the post-game presser, especially after a contentious game, can deliver lines as cinematic as The Brodie's outfits (not to mention, in general, The Brodie's outfits).
As an underdog, the league is free to take risks, and it'd be easy to profit off the personalities it encourages, but the league has some pretty impressive stopgaps for that sort of thing.
Michele A. Roberts was named the Executive Director of the National Basketball Players Association in July 2014. She immediately secured massively increased contract opportunities for players and issued one of the most important quotes of all time. Now, Roberts has her sights set on increased starting salaries for players in the developmental league, which is likely where more and more rookies will end up if the age-limit rule is lowered to 18.
The financial livelihood of its players, young players if the age-limit drops, is paramount in empowering its athletes, especially when 75 percent of the NBA's athletes are black men with wildly disproportionate socio-economic markers than 98 percent of its majority owners, who are white. Progress, in some parts, is slow.
The best way to address some of the league's larger discrepancies, like the disproportionate amount of white GMs and Chairmen (I'm with Draymond, a new name for them is needed), is through the obvious intermediaries: coaching staff.


Gregg Popovich, Steve Kerr, and Stan Van Gundy are white coaches all, but coaches who use their position and platform to advocate for their players and their rights, on and off the court. The development and promotion of Spurs assistant coach Becky Hammon who became the first woman to be named head coach in the league during 2015's Summer League, was interviewed this past summer for an open Bucks GM role (and who is on track to become the first full-time female coach in the NBA) shows progress where it will make the most marked difference: in the ripple effects that come later, in starting to make it so anyone can see themselves in basketball.
For now, coaches need to stay visible by being vocal.
That might mean using their voices if they haven't before, even if it's just to tell their players that they have their backs or as a supporting chorus when they speak up individually. Recognizing that they can and should say more things like this, because it chips away at the crumbling belief that anybody should ever just stick to one thing, let alone sports.
And thankfully, that's exactly what the NBA isn't doing. By pulling the 2017 All-Star Game out of North Carolina to protest an archaic law that eliminated anti-discrimination protections for the LGBT community, it didn't stick to sports. By supporting WNBA franchises in leading pre and in-game protests over police brutality for the last 15 months, it didn't stick to sports.
Stick to sports essentially translates to "don't think about it", which sounds nice, I guess, if you're ensconced in privilege like it was a winter duvet. What the NBA shows us, in becoming an unexpected counterweight to the continual doom and gloom of our news cycle, a bastion of progressive thought, and a growing, thriving industry, is that being good, being decent, and generally doing the right thing, is not a naïve mode of thought but a tangible business model.
Business is buckets, and the factory's booming.