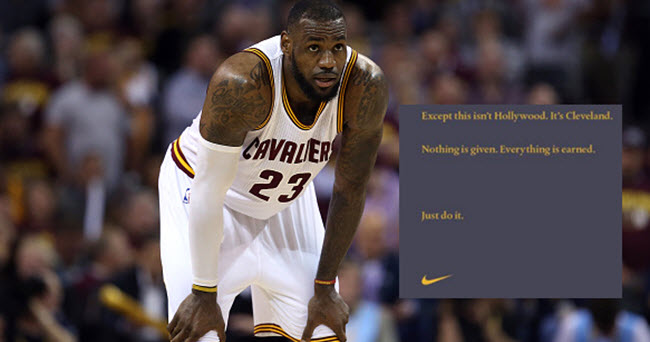 "Nothing is given. Everything is earned."
Things didn't go as planned for the Cleveland Cavaliers in the NBA Finals. The prodigal son's return did not end in a championship. But, as Nike says in their ad, which was posted in Sunday's Cleveland Plain Dealer, "This isn't Hollywood. It's Cleveland."
Hell of a narrative for the company's most important athlete.
(For those that can't see the text)
Imagine if LeBron came home to Cleveland.
Imagine if the team struggled early, but finished the regular season strong.
Imagine if their big man went down, but they still found a way to power through the Eastern Conference.
Imagine if they faced the top seed in the Finals.
Imagine if they pushed Game 1 to overtime, but lost another star to injury.
Imagine if everyone counted them out.
Imagine if they shocked the world and took the next two games.
Imagine if fatigue caught up with them, and they lost Games 4 and 5.
Imagine if they defied odds, logic and the basketball gods to come back and win the series in seven.
Except, this isn't Hollywood. It's Cleveland.
Nothing is given. Everything is earned.
Phil Knight likely had the Nike team work on two ads: One for a win, one for a loss. Hard not to gather that after reading his comments following Game 6.
"Yeah, we don't suggest he goes any place, but I thought it was a great story," Knight told the Northeast Ohio Media Group. "He came back because he was coming home. I think that's a great story any time."
The happy ending will have to wait at least another year.