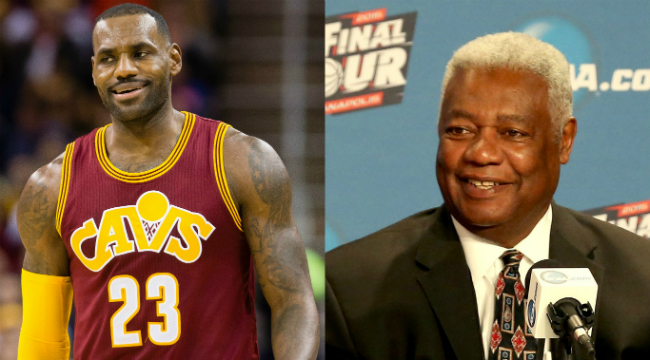 When LeBron James cracked the top 25 in all-time assists on Monday night, he joined a club so exclusive it has just two members: Oscar Robertson and James, the only men to rank in the top 25 in both points and assists in NBA history. But it's not the first time these two legends' stories have been intertwined.
Perhaps it's because LeBron's place in the NBA somewhat resembles that of Robertson — heretofore unseen combinations of size, skill and athleticism. Both were threats to put up triple-doubles on any given night, though Robertson was clearly a bigger one — you may have heard once or twice that he's the only player ever to average a triple-double over the course of a full season. People have been comparing the two for years, even back to the beginning of LeBron's first stint in Cleveland.
And as far back as 2009, Robertson and LeBron have had a wealth of mutual respect for one another. Maybe it's because of those on-court similarities, maybe it was because both of them had to leave their longtime franchises in Ohio to win a championship with a better supporting cast, but there's always been love between The King and The Big O.
Robertson called LeBron the best player in the NBA back in '09, when LeBron vs. Kobe was a real debate. And Oscar himself drew the parallels between his championship-less Cincinnati Royals teams and LeBron's initial Cavaliers squads, criticizing the franchise for not surrounding James with enough talent.
By the time Oscar won a title, he was on the downside of his career and had just been traded to the Milwaukee Bucks, who had drafted Lew Alcindor the year before. So, when LeBron took his talents to South Beach and was excoriated by much of the NBA world, it was Robertson who came to his defense.

At the time LeBron left, people from Charles Barkley to Bill Simmons opined about how he was tainting his legacy by joining forces with a rival. But Robertson's rebuttal has been proven true in the time since.
"What is legacy, anyway? A guy can play or he can't play. Legacy is after you're through with the game and gone, they look back on your career. All this legacy stuff people talk about before a guy even finishes playing is just TV talk."
Even before LeBron returned to Cleveland, talk of his tainted legacy had faded because he won championships. That tends to change your legacy somewhat, as it turns out. After the Heat's first title in 2012, Robertson again publicly chastised fans for how they viewed LeBron by drawing parallels to his own career, and noting history wouldn't be kind to people slighting LeBron for not winning a title.
And LeBron, for his part, has returned every bit of love from Oscar. Back in 2014, he named Robertson to his personal NBA Mount Rushmore, along with Michael Jordan, Larry Bird and Magic Johnson. It's a silly statement that sparked a silly debate, but it contained some of the highest praise possible for Oscar, who appreciated the love (and said LeBron was close to knocking him off).
During a preseason game at Xavier University this season (near Robertson's old Cincinnati stomping grounds), James thanked Robertson for his imprint on the game to the Cincinnati Enquirer.
"He's one of the guys who paved the way for us, for myself. You know obviously his talents go beyond the years he played. He was a talent before his years. His impact off the floor is something all of us – if you don't know – you should know."
Some of that off-court impact LeBron says you should know include how Robertson endured hideous racism during his career, and how as the President of the Player's Association helped change salary cap and free-agent rules to allow higher salaries and more player movement. LeBron's Decision would never have been possible if not for Oscar.
And when LeBron joined Robertson in that rarefied air of scoring and assisting, he did not miss the opportunity to say that The Big O "laid the foundation and I'm just trying to carry it on."

When asked why Robertson isn't as much of a household name these days as other legends, James told the Northeast Ohio Media Group, "I think if you are a true basketball (aficionado) and you know the knowledge and history of the game, there is no way he can ever be lost."
LeBron went on to say that he and Robertson have a good relationship, and "anytime we get an opportunity to either see each other or talk to each other, it's always respect."
Across generations, but drawn together by undeniable career parallels, Robertson and James are ultimately bound by respect. The respect they have for one another, and the respect they earned from everyone else with brute force and talent on the basketball court.
And coincidentally enough, James reminded the basketball world of that heartening reality on Monday night by creating an exclusive club of he and Robertson are members alone – mere hours before The Big O's 77th birthday.